Heading into CSCMP's annual conference next week, I am taking the easy way out and highlighting some of the excellent reader feedback we've received in recent weeks.
That will start with a great email from Tom Davis of End-to-End Analytics and HP many years ago, commenting on my First Thoughts column on "The Supply Chain Efficient Frontier," which discussed the not well understood concept of tradeoff curves.
"I read your column today with great interest - you had me at the outset, but it just got better and better," Davis began.
We'll take that.

"In many respects, both companies [Target and Walmart] seem to be "grasping at straws" attempting to fix problems and it appears without much improvement," Armstrong notes.

---

"Let me station myself squarely in the "tradeoff curves exist" camp. Moreover, I'd say they're quite useful," Davis went on. "Most managers intuitively grasp the concept, and it's easy to transition from the underpinning math to the important concepts of what you called "curve shifting." What starts as a theoretical discussion generally ends up being quite practical."
Davis said he recently made a conference presentation that included material on tradeoff curves, which included the graphic below, not dissimilar from what we published last week from Logility's Sean Willems but worth repeating.
"I offer this material as evidence supporting the relevance of these trade-off curves. For all the terrific high-end math we apply on our projects at End-to-End Analytics, a good number of them start with simple discussions and pictures like these drawn on a whiteboard," Davis said.

He noted in his email that one of the really tricky aspects of this analysis is pinning down a service target.

"It's easy to talk about percent off-the-shelf and such. But it's another thing to pick a target out of thin air, and yet another to really understand the real organizational costs and benefits," Davis wrote. "Not everyone needs 98% off-the-shelf availability. Sometimes just having great confidence that you'll have it available within a day is sufficient and far less costly. "
"Good stuff," he concluded. "It's great to see you picking up material that's at the intersection of serious analytics and practical supply chain management. "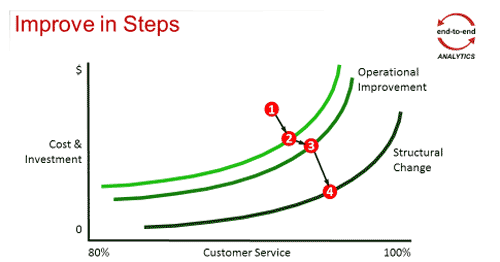 Source: Tom Davis
David Armstrong now runs his own consulting firm, Inventory Curve, after many years as a supply chain practitioner, and is one of the best there is when it comes to topics related to what I will call supply chain finance (inventory management, how supply chain drives shareholder value, etc.).

Armstrong often comments on SCDigest articles, invariably offering very insightful observations.
That includes comments on a recent OnTarget article we published on reports of challenges at Target stores keeping their shelves well stocked. That piece noted this is an issue competitor Walmart has also been batting for a number of years. (See Target Battling Out-of-Stock Issues, Following Years of the Same by Walmart.)
"In many respects, both companies seem to be "grasping at straws," attempting to fix problems and it appears without much improvement," Armstrong notes.
Armstrong said that he possesses lot of first hand knowledge and experience in store stocking operations in retail. He says that "A problem that I have observed is that in many cases, store managers are handcuffed by corporate policies and directions that effectively limit their ability to be more successful in this area. "
Below are a number of examples from Armstrong on these challenges:
• Store staffing is driven by store budgets which are closely tied to sales projections. Yet in-bound freight arrives in stores in advance of projected sales, particularly at this time of year as stores build inventory for the holiday season. If they don't increase staffing to handle the growth, the backup in the back room builds rapidly.

• With limited staff and multiple priorities, in many cases, stocking gets a low priority.

• There is a learning curve related to stocking: where does the product go in the store, what are the facings, etc.? This takes time to develop. New people thrown at stocking have much lower productivity than experienced people.

• Merchandisers and store planners seem oblivious to operational effectiveness at the store level. In many cases, they are always, "moving things around." Given directions and mandates from higher up, store managers are required to use resources to relocate and move product, not restock. This is non-value added work.

• Stores receive merchandise triggered both PULL systems (POS) and PUSH systems ( seasonal items and seasonal builds of core products). In many cases, store replenishment is driven by warehouse picking schemes and carrier capacity and not segregated by PULL and PUSH merchandise. When the product arrives in the store, in many cases it is commingled. If there already is a backlog at the store, it can be difficult to get the movers (POS driven replenishment items) pulled and out into the store.
All great observations. Meanwhile, Chad Smith of UPS offered some cogent thoughts on my piece on "No You Can't Track People Like FedEx Packages," stemming from comments made by presidential candidate Chris Christy relative to tracking immigrants into the US.
"I think jumping to the "how" (using barcodes for example) is premature. And I'm sure we would need to further explore the "should we" question as well," Smith wrote, "However, I look at this differently than how your article and perhaps how most people do. I would want to know what check-in places most "Visa" holders have to visit. I would be looking at transaction locations because that's how we do it in the transportation industry. We have methods (processes, people and technology) at each of those known points to help us track packages. They don't send up some signal to a satellite and we don't know where every package is precisely at every moment. We know where it was last, where it's going and the 3 or 4 routes it most likely will be taking in between those two points."
So he thinks that if a person with a Visa is here for educational purposes, the US should design processes that could be seamlessly implemented at those locations. If the government wanted to see where a Visa holder was, it might pull up a "timeline view," Smith suggests.
For instance, the government could see that a given individual was at State University on a given date (paid tuition, ate at the student center, paid a parking fine, etc.). If a person was here for work purposes, you could do something similar at the employer or the bank where a paycheck check is to be deposited.
I think in the end Smith comes out not far away from my observations, with Christie's notion that when the Visa expires we tap the immigrant on the shoulder and say "Time to go" (real-time tracking) is not happening any time soon. That said, news this week that a California school district is considering use of iris scanners on school buses after the tragic death on special needs students. In my column, I noted that this was actually a potential way to achieve something like real-time tracking - ala The Minority Report - but was hoping it was an issue for many years from now. Maybe not.
Finally, after my annual "The Labor (Day) Supply Chain" column a few weeks ago, we received this thoughtful letter from Jerry Saltzman of Pfizer.
First, we're once again happy for another compliment, with Saltzman writing that "It is notable that a frank, open column on labor is published. This is a serious issue for our economy."
He adds some interesting observations.
"Working class, unionized labor [once] made up a significant part of the America's middle class. Two generations ago, a high school graduate could move into the middle class working in manufacturing, which was largely unionized," he wrote.

With unionization and factory jobs decreasing dramatically, "Is there any concern by employers about the millions of high school graduates that won't have that path to the middle class, limited job security, maybe healthcare?" he asks.

My quick response is I am sure there is much concern, but the question is what to do about the situation. Unionization as not long ago practiced at GM was not, I would say, good for the company or the broader economy (it's better now).

"Unquestionably, employers have largely eviscerated the number of unionized employees. Union leadership must shoulder part of the blame as well for their intransigence on seniority rights, inflexible work rules and, in some cases, self-preservation over leadership," Saltzman also wrote.
He adds that "It would be interesting to map the fall of union membership with the drop in US manufacturing attributable to globalization. Would the drop in US manufacturing parallel the drop in union membership, or would the drop off of union membership be a steeper downward slope? "
Lastly, he agrees with me that "the National Labor Relations Board's recent rulings which you described could be pivot points".
"Keep the conversation going," he concludes.
All good stuff. Join the party. I know it takes some time to offer your thoughts, but it's greatly appreciated by all. We will always keep your name and company anonymous upon request.
Will be in San Diego next week for CSCMP. Please say hello if you see me. Daily video recaps next week.


Any reaction these great readers letters. Any of the observations hit home with you? Let us know your thoughts at the Feedback button (email) or section (web form) below.