I think it is rather safe to say that the two most prominent US retailers today are Walmart and Amazon.com.
Gilmore Says:

Walmart doesn't disclose ecommerce sales, but did say for 2015 they were up 22% globally. That would put it a bit behind Amazon's growth, which saw merchandise sales up 24.7% worldwide.

---

Walmart earns that place due to its stature as the world's largest retailer (and company) and one that represents often a substantial share of many consumer goods companies' total sales. Amazon earns a spot because it is the dominant eCommerce company, which is where all the action seems to be right now, its phenomenal growth (slowing down somewhat now due to the law of big numbers), and its incredibly aggressive innovation in eFulfillment and more.
So we've been looking at both of these retail giants "by the numbers" in recent years - which as I will explain in a second, is harder than you might think. What Walmart and Amazon are doing is obviously of interest to most other retail and consumer goods manufacturers, and I hope others as well, as in the end almost every company is connected to the retail supply chain.
So let's start with Walmart, which just reported its full year earnings, ending its 2015 fiscal year on Jan. 30.
I will simply say that while Walmart is an incredible giant, its growth has slowed dramatically of late. As can be seen in the chart below, Walmart's US (Walmart stores + Sam's Club) sales grew very rapidly in the beginning years of the 2000s, primarily by adding new superstores carrying groceries at a rapid pace into new markets.
But that growth was soon decelerating, and the recession year of 2009 started a pattern of very low growth that is not much above inflation on average, meaning real growth is almost flat. US sales reached $288 billion last year, more than double the $139 billion the company had in 2001, but the pace of that growth has slowed dramatically, certainly putting some tensions inside the offices in Bentonville.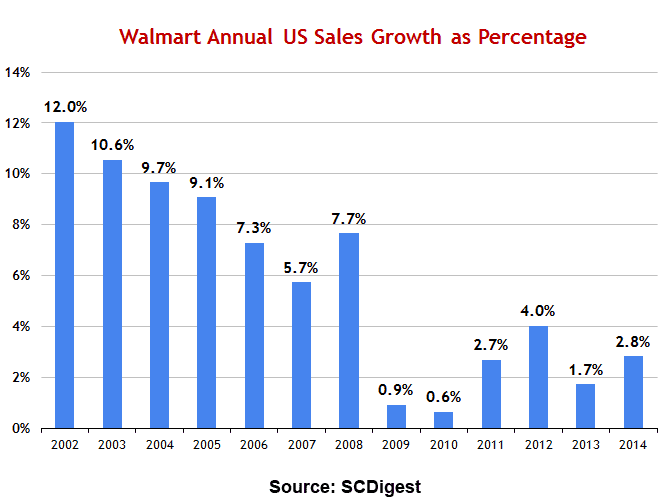 And surprising to me, international growth has also plateaued, despite an awful lot of attention and investment there (naturally enough, as US growth opportunities shrank). International sales last year were $136.1 billion, down a bit from the $136.5 the year before that, and little above the $135.2 billion on calendar year 2012. Interesting.
Walmart doesn't disclose ecommerce sales, but did say for 2015 they were up 22% globally. That would put it a bit behind Amazon's growth, which saw merchandise sales up 24.7% worldwide.
Not all that many years ago, there were (I think legitimately at the time) concerns about Walmart gobbling a giant share of the US retail market, but with the recent very modest growth Walmart's share of retail has also flattened. We developed a methodology several years ago, where we compare Walmart's US sales versus relevant US retail - total retail minus autos and parts, gas station sales, restaurants and fuel distributors. It's not quite perfect because Yes Walmart does sell some gasoline, but they don't break it out. I think what we have is pretty good.
By that measure, Walmart had an 11.3% of US retail sales in 2014, same as the year before, and down from a peak of 12.2% in 2009.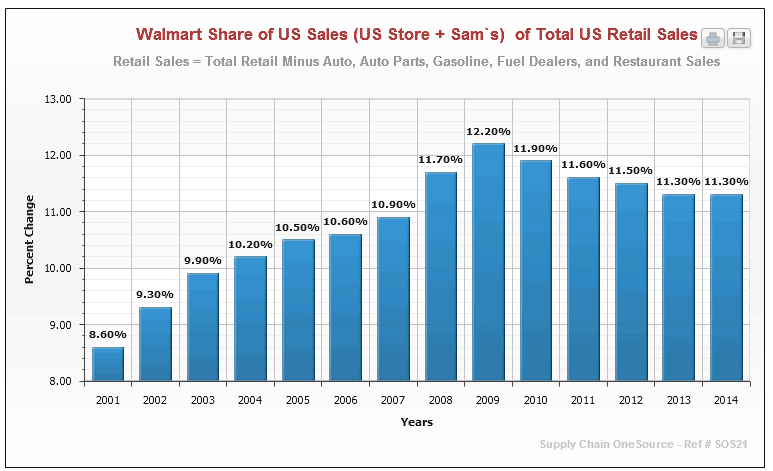 Now let's turn to Amazon, a company that provides a lot of numbers but getting real insight from them takes some work. That is because of its several business units and how it computes certain ratios, as I will explain in a moment.
Overall Amazon revenues were up 20%, but that includes digital media sales and its rapidly growing web services unit. I think it is more interesting to look at Amazon's merchandise sales, as shown in the chart below.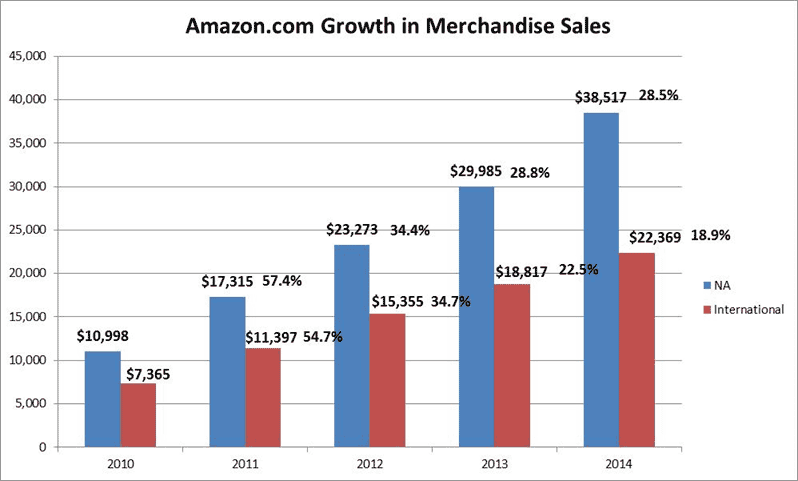 That shows Amazon was able to grow merchandise sales 28.5% in North America last year, about the same as the year before. Impressive, though still down from the 50% type growth we were seeing through 2011. International merchandise sales growth (19%) was solid but is slowing faster than North America.
One thing that vexes me is that I do not understand how and where Amazon books revenue for its "marketplace" service, where a customer is buying not from Amazon but direct from the supplier. Do Amazon's fees for that go into merchandise sales, or its web services unit? I think the latter, but I am trying to confirm. All this is complicated by the fact that sometimes Amazon does the fulfillment for these marketplace sellers.
In the end, I am trying to adjust the numbers Amazon reports for things like shipping and fulfillment costs against the right denominator.
For example, Amazon provides its net shipping costs - what it spends versus how much it receives from Amazon customers. Net shipping costs in Q4, for example, were $1.4 billion, and about $4.2 billion for all of 2014. And we remember when companies used to make money on shipping.
The Amazon figures report shipping costs as a percent of worldwide sales - and over the last five quarters that was in the 4-5% range. That's high enough, but SCDigest then compared those shipping costs just against merchandise sales - and the picture is worse, as shown in the graphic below.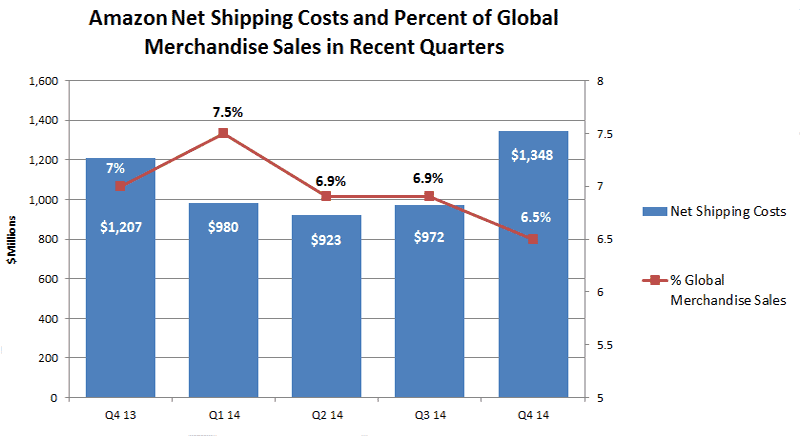 Using that denominator, shipping costs are more in the hefty 6-7% range of relevant sales - quite a meaningful difference.
I am out of room, even though I have more - such doing the same sort of adjustment to Amazon reported fulfillment costs. Do you like this stuff? Let me know - we'll get more out somehow.
Any reaction to these numbers from Amazon and Walmart? Any other data you would like to see? Let us know your thoughts at the Feedback button or section below.