I have never been to the Material Handling Institute's (MHI) annual conference, and had no intention of doing so this year until the final day of the CSCMP conference in San Antonio.
There, literally just after the conference ended, I was buttonholed by new MHI executive staff member Daniel Stanton, whom I have come to know while he was working for Caterpillar, and my longtime friend John Hill, now of St. Onge. You need to come, they said, we're revamping the program in a big way.
I took a look. It was an interesting line-up of speakers and topics. So I did indeed find myself jumping on a plane for the long trip to San Diego and the wonderful Rancho Bernardo Inn 30 minutes north of the city.

Google Maps actually also has an "indoor" version, through which I believe it would not be too difficult to build a real-time locator system for logistics assets.

---

Before I summarize what all told was excellent content, some context. MHI, headquartered in Charlotte, is an industry association made up of providers of materials handling related solution, from conveyor systems to WMS software to fork truck battery charging systems and everything in between.
It is most known for producing the major ProMat trade show in Chicago every other year, and now the MODEX show in Atlanta in the off years. There is no question that right now MHI is ambitious and looking to become more of a supply chain focused organization than just a materials handling one, and this conference was a reflection of that.
The MHI conference has been around for decades, and was primarily a chance for its various sub-groups organized around different product/solution areas to meet and set plans, wrapped around a few external speakers to provide some diversion. But MHI is now upping the game. The number and quality of the speakers were substantially enhanced this year, and MHI certainly spent some money to make this a high quality event. The venue was excellent, and the food (a prime consideration for me, I must confess, and often lacking elsewhere) was very good. Good speakers and meals are not cheap.

MHI plans to up the ante even more in 2015 and attract more members and industry people from the few hundred that made it this year, with ambitions to expand to make this an event for "shippers" as well in 2016. That's a tall challenge and one that will require investment, but this is definitely a conference to watch. I certainly would be interested in returning in 2015, based on this year's proceedings.
The conference had three main thematic tracks, two of which were talent management and supply chain complexity, but the third - supply chain innovation - dominated the content. My two main takeaways: (1) we as an industry and myself here at SCDigest need to do more thinking about supply chain innovation; and (2) watch out for Google.

At Sunday's "executive conference," Walmart's Brent Beabout, SVP of its ecommerce supply chain, gave an interesting and pretty frank overview of Walmart's omni-channel challenges and opportunities. The central issue: the retail world is changing rapidly: can the world's largest retailer successfully change with it, or will it fall from its perch as so often happens to the leader when the paradigm shifts?

The jury of course is still out on that question.

Beabout talks about as fast as I do, and there is no way I can do justice to all he covered in his presentation, but here are some highlights: major changes in any sector comes in waves, and innovation is "lumpy." Companies that do not well adapt to these changes and "jump the curve" are naturally in great peril. This is where we are in retail today. As a Lowes supply chain executive told me two years ago, omni-channel is going to create new retail winners and losers.

Walmart is building out what it calls a "2 x 2" network, which is a group of ecommerce fulfillment centers that will be able to get to 95% of the US in two days and 63% in one day, and will be completed in two years. But in parallel, it is counting on its 4200 US stores to give it a big advantage over Amazon, both in terms of same-day fulfillment and what it sees as perhaps even more promising: on-line/mobile order, pick up at store, using new drive up spots where a Walmart employee quickly puts your order in the trunk. Walmart is also increasingly moving to smaller store formats from its giant Superstore model.

I see two challenges: (1) Walmart says it must dramatically change, but keeps going back to its existing network and culture as the solutions. We'll see. (2) How it can keep and grow the same volumes it enjoys now through smaller stores is a very tough question.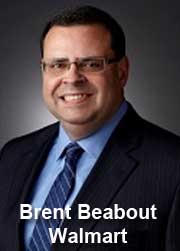 On Monday morning, I very much enjoyed the presentation on supply chain innovation from Dr. Jim Rice of MIT, first because he kicked things off with SCDigest 's list of the greatest supply chain innovations of all-time (we'll redo this soon), and because he both provided innovation insights and created just as many questions I think we need to work through. MIT/Rice is doing a lot of work in this area, by the way.

First, he noted, we have to be clear that a company's product innovation is not the same thing as supply chain innovation, perhaps an obvious statement, but a company could think itself as innovative from a product perspective but not be innovative in its supply chain.

However, I will note product innovation can often create/necessitate supply chain innovation to support it, one example being the new supply chain Apple really needed to create for the iPad, and the new hybrid product/service offerings many industrial companies are now creating based on the Internet of Things.

One point Rice made was that right now we have an incredible array of external innovations that can be leveraged for internal innovation: autonomous driving vehicles of all sorts (here and coming), drones, Internet of Things, smart glasses, social media, machine to machine technology, Cloud, etc. You have a lot of tools and options out there right now. (Which begs the question to me, how much supply chain innovation is vendor/supplier-driven versus internal?)

Rice also noted the difference between "local" innovation - the advance is only within the context of a given company's supply chain - and "global" innovation - a new path for an industry is created. The latter, obviously, is much tougher to achieve, but brings rich rewards (e.g., Dell's make to order model, Walmart's pioneering focus on low cost and supply chain efficiency).

Rice and I may collaborate on some supply chain innovation work here soon, by the way.
On a different note, I was intrigued to say mildly by a keynote presentation by Michael Walton of Google. Is Google going to be a force in technology solutions for manufacturers and beyond? It is certainly a potentially disruptive approach and one worth watching.

Here is how I can best describe it: a number of existing Google tools (Cloud, Hangout, Docs, etc.) can be used to drive visibility and collaboration within and between companies, especially manufacturers. And this isn't just theory - Walton and a partner from a company called T-Sciences gave a number of case studies of companies that have leveraged Google technology for supply chain, such as carpet maker Shaw's.

Most intriguing to me is the use of Google Maps for wide range of visibility-related applications - and in fact, later that afternoon, a speaker from Caterpillar displayed its transportation network using Google Maps. Google Maps actually also has an "indoor" version, through which I believe it would not be too difficult to build a real-time locator system for logistics assets.

Make no mistake, Walton told me Google doesn't want a relative handful of manufacturing customers paying pretty high prices, but thousands and thousands of customers paying relatively small amounts of money ($50 annually per user or something like that) to use Google technology. Google is just in the tools business - you either need a third party or to build the true apps yourself - but it could be disruptive in the supply chain software space. More soon, including a video of Walton's presentation.

Entrepreneur, consultant =, author and general man about town John Kao gave a pretty good lunch time keynote again on innovation, more general than specific to supply chain, but the message was a valuable one nonetheless: innovation in a company is a capability. Therefore, like any capability, it needs to be developed, taught, and most importantly practiced continually, the way and athlete or musician (which Kao is) practices their skills.

How many supply chains do that when it comes to innovation?

I am out of space, but it was a good event, and one to keep an eye on. Note our innovation inspired cartoon caption contest we just released. More on much of this soon.

Any reaction to our MHI conference review? Thoughts on supply chain innovation? Let us know your thoughts at the Feedback button (email) or section (web form) below.