I am fresh back from San Antonio and CSCMP's 2014 annual conference. It was a good week, I spoke with lots of SCDigest readers, and all told I give the conference good marks - but as is my wont I have a few suggestions to make it better. I'll save most of those until the end of this piece.

Thousands of you have watched my daily video recaps of the conference (which for reasons I can't quite figure out, seem increasingly hard to get done in a timely manner). You will find them here, and thanks to John Hill of St. Onge for adding some commentary on day 3: CSCMP Day 1 Video Review, Day 2, and Day 3.

The number I heard was about 2500 attendees, which I think would be down a bit from last year, and the crowd felt a little smaller than usual just based on the size of the people walking the halls and coming to the session rooms. That said, San Antonio is a great venue for this kind of event, with beautiful weather (it was actually quite hot), and the fun and popular River Walk to enjoy in the evening.


Regan told the audience on Monday that that each of us can really make a difference both professionally and personally, but it mean getting out of your chair and taking action.

---

The "trade show" aspect of the conference continues to expand, which some like and some don't. I believe just five years ago the vendor exhibit area was still very Spartan, with all exhibitors having the same style white display booths. We then had two years of the Supply Chain of the Future, which might have been cool if done right, but it never really clcked.

So last year we got the "Supply Chain Exchange," a more traditional trade show type environment, and it was back in 2014, and bigger, as noted above. Just about all the meals and receptions are pushed to the Exchange area, and we had like 2.5 hour lunch breaks to encourage booth roaming, which of course makes the vendors happy. I have some mixed feelings about all this, but given the lack of alternative supply chain trade shows today and the real need for CSCMP to drive revenue from the conference, it's probably as it should be. Vendors I spoke to were generally happy with their results.

From a big picture perspective, there were just 20 tracks this year, down from 26 in 2013 and I think in the 30s not too many years ago. But then in a bit of a twist, those 20 tracks were then slotted under what CSCMP called "cornerstone" themes, of which there were six: (1) talent and careers, (2) economic forecasts and supply chain trends, (3) thought leadership and innovation; (4)manufacturing planning and sourcing; (5) transportation, distribution and warehousing; and (6) the "customer."

I think I understand the theory, but I am not sure the cornerstones structure added much value. The track identity got sort of lost in the cornerstone framework, and left me wondering why not just organize sessions under the cornerstone themes and forget the tracks altogether. But I would actually keep the tracks, with the reduce number of them being a good thing, and retire the cornerstones unless a better reason for their existence can be developed.

There were just three educational sessions each of the first two days, down from four last year and maybe even five several years ago. I am not in favor of that change, but then I am there on a mission to gain knowledge and report on it, so maybe others prefer a lighter schedule. After a 90-minute opening general session the first two days, there was a 90-minite breakout type session, a long lunch break as noted above, then two one hour breakout spots in mid-afternoon. Last year and for many years before, there was one more afternoon session. I would either add that back, or maybe better take the existing morning session back to a normal and better 60 minutes and add another session before lunch.

That said, I count almost 120 individual breakout sessions between Monday and Tuesday, so the number of choices is very broad.

One the final day, Wednesday, there were three 90-minute "mega-sessions" to choose from to start the morning, followed by 90 minutes or so of closing festivities.

I think it is worth a few words on the educational session content themes. As has been the case the past several years, the percent of sessions that involved panel discussions was high. In fact, outgoing CSCMP board chair Heather Sheehan of Danaher promised "fewer poweroints" this year on Monday morning, presumably in favor of more panels.

It is a rough cut, based simply on the number of presenters listed in the session description to determine if it each was a panel event or not, but I came up with about 48 of the 118 sessions being panels. Whether that is a good trend or not is a very subjective opinion. One thing I do know is that it is easier for supply chain managers and executives to get approval to participate on a panel to discuss a topic than it is to present a case study, so that is a factor to be considered. It is usually also less work to answer panel questions than to put together a powerpoint.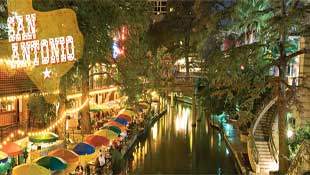 Panel quality of course varies a lot, but my own personal view is that panels can be very interesting, but that you don't come away with as many insights and bright ideas as you do in more case study or "thought leadership" type sessions. I would be interested in your take on this question.

There were a very high number of various "omni-channel" sessions - maybe a few too many, but this is a hot topic obviously. There also seemed to me to be a lot more of the kind of session you would see under the "career and talent" cornerstone than has been the in most years. I did not go to any of these sessions, so I do not know how well they were attended.

Notably absent or very lightly represented: RFID (not one session, even as it is now making a supply chain impact), the consumer goods supply chain (which often dominates the schedule), procurement in general and especially low cost country/China sourcing, and supply chain planning tools/techniques outside of S&OP. which as usual was well covered.

Next week, I will summarize the key sessions I saw, and I attended some good ones, especially Monday and then in a transportation-related mega-session on Wednesday. Presentations by US Foods on integrating order quantities and logistics efficiency, and Caterpillar on the quantitative value of supply chain visibility were especially noteworthy. The Caterpillar session was the best I have ever seen on the topic.

In the general sessions, CSCMP CEO Rick Blasgen noted how bright the outlook is for the supply chain profession right now, noting supply chain has become a "destination" career in a way it wasn't in the past. He also noted the continued progress in "supply chain finance" literacy, a subject he was focused on even before he took over at CSCMP.

Mike Regan of TranzAct Technologies deservedly won the Distinguished Service Award, the industry's most prestigious honor. Regan told the audience on Monday that that each of us can really make a difference both professionally and personally, but it mean getting out of your chair and taking action. Regan's business success and relationships are a strong testimony to the power of such proactive involvement.

Sears was runner-up in the supply chain innovation award for its approach to using stores for efulfillment, which has an innovative approach to dynamic selection of the sourcing point. The winner was a combination of Flextronics and Bio-Rad, for some process that accelerates the speed of new product introduction. More on this soon.

I as always had a very good time and overall it was as always a high quality event. But I would suggest there is an opportunity for CSCMP to use this conference more forcefully as the industry focal point for supply chain thought leadership. That means in part bringing supply chain thought leaders more directly to bear in the general sessions. We need to keep tabs on who those thought leaders are - both current and emerging - and work hard to ensure more of them are prominently involved each conference. I think this might all be enhanced by having a conference theme each year - something that used to be used many years ago.

I am out of space. Details on breakout sessions next week. The 2015 conference will start Sept. 20 in San Diego - I hope to see you there.

Did you attend CSCMP? What were your thoughts? Do you like the panel trend or not? Let us know your thoughts at the Feedback button (email) or section (web form) below.