I released a new set of Supply Chain Megatrends in 2012, and promised to provide more detail on each of them in future First Thoughts columns - and I am woefully behind. I am going to try mightily to catch up soon, before it's time to update the Megatrends list again in 2014 or 2015 ("good Lord willing and the creek don't rise," as they say).

So after detailing my thinking behind Turbo Supply Chain Visibility and the resulting looming Era of Perfect Logistics, I am here this week on the third Megatrend on the Blurring of Supply Chain Planning and Execution.
This trend, I believe, is already ascendant and will not only impact the practice of supply chain management, but how supply chain organizations are structured and more.

The focus now is increasingly on "bottoms up" - that's really in the end what the "demand-driven supply chain" is all about, isn't it?

---

The basic point is this - as real-time supply chain information becomes ubiquitous, it throws the traditional, hierarchical supply chain planning and execution model on its head. Operational and even to an extent elements of tactical planning start to merge into a single process with execution, as feedback loops become virtually instantaneous, and information latency is driven out of the supply chain.
Coincidentally (given I cited his thoughts in last week's column - see Feedback, my favorite quote on this comes from Nick LaHowchic, former head of supply chain for The Limited Brands, who with the late Dr. Don Bowersox of Michigan State University had this to say in their excellent book Start Pulling Your Chain (2008):

"If information was shared fluidly between participating firms in a channel, then a great deal of "anticipation" would be replaced with facts. In a collaborative environment, it would not be necessary to forecast what others are planning to do or what they are planning to buy. You would be able to see it."

The days of finding out a few months later whether the big retail promotion worked as planned are or soon will be over. Plans will be near continually adjusted as the information and insight changes.

In truth, this discussion can be seen in the context of the on-going debate over which is more important generally for business success: strategy or execution.

Of late, execution is winning the battle, with some thought leaders arguing that beyond a certain basic level, spending countless executive hours on long-term strategies is counterproductive in an era of such rapid and largely unpredictable change.

The smart consultants over at Oliver Wight have been suggesting the term "Dynamic Strategy Management" to refer to an approach in which the Sales & Operations Planning process is used to more frequently adjust strategies based on what is really happening on the ground. More on that soon.

Most of us have seen diagrams of the traditional hierarchical planning model. I have seen better, but I have included a simple one here: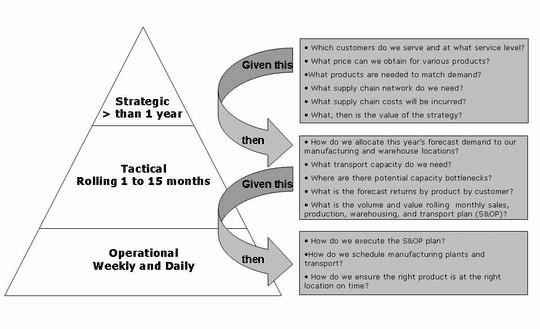 Now, I am not saying that something like this model is not going to be around forever in one way or the other. Yet, does not this model connote several things?

• An inherently very "top down" approach
• That information must flow from the top down through these layers, and then presumably back up, with latency between every level
• As in most of these graphics, execution is never even referenced
What is happening now is, if not breaking down this model, certainly adding new dimensions to it, the other side of the coin, if you will.

The focus now is increasingly on "bottoms up" - that's really in the end what the "demand-driven supply chain" is all about, isn't it? And now in the consumer goods to retail sector the concept of the "shelf-connected supply chain" is extending this basic notion even further.

So called "demand sensing" technology fits into this. While it again is mostly a consumer goods to retail solution right now, the basic principles should apply to any industry: that my short term forecasts, inventory and replenishment plans should not be set in stone once created, but rather adjusted based on what consumers are really doing, whether that's measured from the POS data at a Kroger store or daily data feeds from an industrial distributor.

What a concept. Why didn't someone think of this before?

I saw a presentation from an executive at Procter & Gamble at the CSCMP conference a few years ago, and he said that based on this near real-time input, production schedules in P&G plants were being adjusted several times daily, and it had achieved substantial improvements in near term forecast accuracy and inventory levels (note: this program was still in pilot mode at the time - I am not sure about results from any actual full deployments).

What is happening is we are moving towards "sense and respond" supply chains. And the more that occurs, the more focus there is on execution, and less on operational and again even some tactical planning.

If you been with us for awhile, you'll know I've used this before, but one of the first supply chain paradigms I learned from my early days doing work in connection with the "Quick Response" movement was the goal that someday when a sweater was sold in Peoria, somewhere in New Zealand a sheep would be shorn (or something like that).

How much planning would be involved in that? I think in the end, this is what LaHowchic and Bowersox were talking about.

Companies will plan "only as far in advance as they need to" - and, for most, that will be far less further ahead than most do today.

This also leads me to think about a concept that Descartes CEO Art Mesher recently introduced that he calls "entrusts." In great summary, entrusts are communities of companies and service providers, supported by a cloud-based technology platform, through which supply chain transactions and activities are enabled and made visible to each "supply chain master" and others as they allow. Descartes is doing this in the logistics industry, E2Open in the high tech and other manufacturing sectors.

I need to get my head around this a little more, but the point is this: here is your supply chain, in real-time.

And as we move to these kind of models and capabilities, does the traditional supply chain organizational structure make any sense? Probably not. Linear, vertical flows of decisions and information are almost in opposition to horizontal, multi-directional real-time data.

The new model will look more like teams of planners and executers that operate together, in a sense forcing internal collaboration and real-time dialog and decision-making. Retailer Zara, with great success, has already moved largely to this kid of structure.

This is exciting stuff, I believe, and will shake up our supply chains in ways hard to fully predict. It will get us a lot closer to the demand-driven paradigm we've had all along.
About time.

Do you believe we will see a blurring of planning and executon in the way Gilmore predicts? What will be the impact? Let us know your thoughts at the Feedback button (email) or section (web form) below.