As some of you may have seen earlier, 2013 marks SCDigest's 10th anniversary. Though our first publication wasn't until the Fall, periodically throughout the year we are going to be featuring some material that reflects back on those (very successful) 10 years.

And that includes today, in what has been a comparatively slow week as we lead up to the Easter weekend, with a lot of families on spring break some place.

We have done a good number of what I have called "Unplugged" interviews with supply chain leaders over the years - in which the interviewee and I have a dialog that includes usually some challenging or thought provoking questions - the kind that are rarely used in most of the softball question trade press. After reviewing several of these columns this week I am making a late New Year's resolution to do more of them this year. They have been generally very good and I think very useful useful to readers.

I think Cantwell was largely correct, but wrong in his assessment of where the Walmart program was headed. Walmart should have put him in charge.

---

Today, and maybe once more this year, I am going to combine excerpts from some of the best of these Unplugged interviews into a single column. Think you will enjoy it.
Nick LaHowchic, in 2008, shortly after he retired as head of the supply chain for The Limited Brands, and prior to that an especially noteworthy tenure in a similar position for medical device maker Becton Dickenson (one of the first integrated supply chain organizations), among other stops. He is what I have called "the thinking man's supply chain executive." Excerpt below:

For senior leaders, LaHowchic told me, a key challenge is "how to govern an enterprise organization that is now operating in a time dimension that is so different than even the recent past."

What does that mean?
"Today," he said, "you have the ability to know everything from what just rang up at the register to where everything is in your business system to where everything is in your supplier's system, and what's running on a production line."

Managing in this parallel information universe, versus the sequential, hierarchical information flow that was the rule until just recently for almost everyone (and is still the case for most companies) is the number one business challenge - and opportunity, he says.

"Capturing the important information from end-to-end and understanding how to orchestrate an organization that uses supply chain management as its overriding framework is what is now key," he says.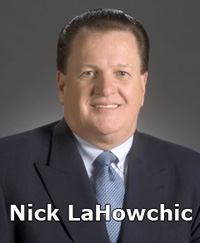 "You can make things happen that in years before would have been sequential activities that were trying to self-correct themselves. Now, rather than doing that, you are able to more navigate your organization and possibly your supply chain channel rather than continue to forecast it positioning resources based on those outdated estimates."

Next, Dick Cantwell, in 2007, when he was Vice President of Auto ID at Procter & Gamble. Cantwell was a major RFID/EPC proponent, coming to P&G with the Gillette acquisition. This was at the height of the contention over the initial Walmart RFID program, which seemed to be wobbling. Cantwell was an articulate spokesman for the value of RFID, and nicely agreed to the interview knowing I was going to ask some tough questions, because I thought Walmart was making lots of mistakes and some of the value potential was suspect.

Knowing the ultimate end (the Walmart program failed) it is interesting to revisit today the potential Cantwell firmly believed in: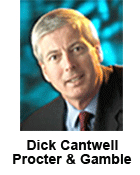 Cantwell: We've narrowed our RFID focus and we are going much deeper into specific applications, and we're getting value… I have demonstrated over and over again that the return easily exceeds the minimum of our company's financial hurdle rate for invested capital. That's with tag prices that I know are going to drop, and with retail sites that I know are going to expand, and that's without benefit from further economies of scale...

Fast forward into the future: tag prices come down, there are more sites, and tag application is more automated. My ROI is going be significantly higher. Now, I feel like we're on the road, headed in the right way. It's a journey and there's discovery, and discovery brings new ways of looking at the benefits.

Gilmore: When it comes to promotional displays and out-of-stocks, many retailers have a store execution issue, it seems obvious to me. Is the way to solve that store execution issue to go spend billions of dollars on RFID infrastructure?

Cantwell: In a word, Yes. I've been in this industry with Johnson & Johnson, Gillette, and now P&G for over 25 years, keeping up on both the marketing and the supply side. I've seen every plan in the book to get better retail execution, and I've not seen anything that had ever lived up to its expectations. What RFID does, is it gives you, for the first time, real actionable visibility. It gives you the systems to really know where your products and displays are.

What we discovered in 50 or so individual RFID pilots and research, all showing very reliable, repeatable results, is that only about 45% of our displays are actually being executed according to plan in the store. If you had asked us even with all the programs we had in place in order to correct that before RFID, we would have said it was 80-85%.

Gilmore: What if a retail store manager has an electronic list that would list the 6 displays that have to be on the floor today or your bonus gets docked? Wouldn't you try that first before you tried RFID?

Cantwell: It has been tried. We've had a number of very significant product launches - and no company is as good as Gillette at surrounding the consumer with that initial product message.

I can tell you that down to the aisle clerk in the stores on Day 1, they are anticipating and ready for the displays to be there. And we get 85%, maybe 90% compliance on a good day. This is a one-off launch that happens only every 4-5 years, one of the biggest things for Gillette, one of the most important events that our retailers do.

But we have hundreds of other events, that when you combine it with the hundreds of thousands of other events that our competitors are also putting out there, despite the fact we know we can apply manual pressure and the store manager can generate lists, and the store manager can crack the whip, the fact of the matter is, half of these displays do not get put up correctly…

My take today - I think Cantwell was largely correct, but wrong in his assessment of where the Walmart program was headed. Walmart should have put him in charge. He is currently a senior executive at Cisco, by the way.
Finally for this column, an interview with my good friend Gene Tyndall in 2004 - the second Unplugged piece we had done (the first was with supply chain execution thought leader John Hill). Tyndall wasn't my friend at the time - it was the first time I had spoken with him. Tyndall had led E&Y's very successful supply chain practice in the 1990's, co-authored one of the most influential supply chain books of all-time (Supercharging Supply Chains), and lots more. Then, he was running his own boutique consulting firm - now he's back as an exec VP at Tompkins International.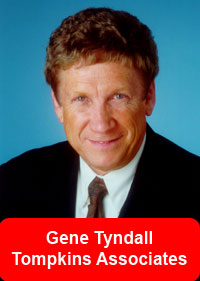 Tyndall then: What I didn't fully appreciate back when we wrote "Supercharging" is the power of the people side - the change management and organizational design issue. Most of us started out more technically focused, but as we progress through our careers we realize more and more it is mostly about the people.

You can re-engineer business processes, employ the best software, but the real enabler is the people, and how they are organized to work, and measured to perform. That is where much of my focus is now.

I spend a lot of time now with executives on their people and their organizations. You have to get the supply chain organization right for your company to excel. I spend a lot of timing on the importance of training too. When you train people the right way, they become more aware and more adaptive. We don't train nearly enough. The organization and people are intricately related to how you manage the supply chain.

You also have to get the right measures in place. For most companies, that's always the last thing they think about, and they often don't get it right. And then we have to remember what I like to call "R squared" - recognition and reward. All this has to line up, and that takes time...
That is all still right on almost 10 years later. Fun memories for me - hope you enjoyed these. I still have Eli Goldratt, Dr. John Langley, and others to go.

Did you like the excerpts from our Unplugged interview series? Anything especially hit home? Let us know your thoughts at the Feedback button (email) or section (web form) below.