Is there any more disruptive business and supply chain force in 2013 than Amazon.com?

It is regularly said, I think with good justification, that Amazon is the only competitor Walmart really fears.

Given its massive revenue and market share growth in the rapidly growing ecommerce arena, that Walmart fear seems very justified, and certainly is not only felt by Walmart.

In fact, the term "being Amazoned" has started to gain some currency, referring to retailers or others that have or could see their sales, margins and even their fundamental businesses threatened by the Seattle and now global juggernaut (starting with traditional book sellers, but now many other retailers as well).

Perhaps surprisingly, Amazon's fulfillment costs, which it says includes procurement costs (overhead), are actually rising. They were 8.2% of revenue in 2010, 9.2% in 2011, and 10.2% in 2012.

---

It's not only traditional retailers and dot com competitors that need to keep a close eye on what Amazon is doing. In April of 2012, AmazonSupply was introduced, taking aim at companies like Grainger, Graybar and other sellers of building supplies and MRO type items. Companies in many sectors (electronics obviously, toys and games, sports equipment, etc.) obviously have to now really think about how to deal with Amazon as a major and rapidly growing channel partner.

I think Amazon's supply chain is very good - but very different than Walmart's.

Over the past few years, Amazon has acquired Diapers.com and Soap.com. I have no real idea why someone would buy these products on line, but perhaps I am behind the times. This means some consumer goods manufacturers need to keep tabs on Amazon developments as a potentially important channel. Who knows what might be next.

Additionally, Amazon has an even more direct supply chain impact, as its massive build out of fulfillment center space, aggressive policies with regard to shipping charges, apparent push for same day delivery in some markets, innovations like the Amazon Locker, and more are pushing the forefronts of efulfillment and clearly pressuring other retailers and service providers to keep pace.

So what do you know about Amazon.com? Below will be links to a series of charts, but we have put them all together here as one pdf document for your convenience: Amazon.com by the Numbers.

There is no doubt that Amazon's revenue growth has been staggering. As shown in the chart below, over the last four years, its top line has grown 28%, 40%, 41%, and 27% respectively, taking it to $61 billion in annual sales – though about $26 billion of that is outside of North America (see chart.) The $35 billion in US sales (lumping Canada in with that, because it is not broken out) would make Amazon about the 10th largest US retailer, but if it grows even 25% again this year it will move up three or four notches in 2013. (Click on this or any image to see full size version.)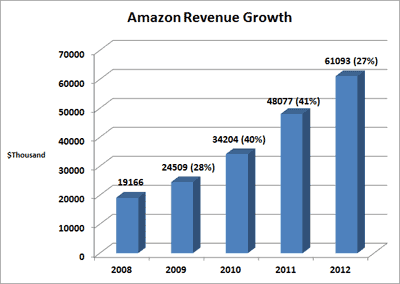 In terms of total worldwide sales, Amazon is likely to pass both Target and Walgreen's this year. Both of those retail giants had a bit over $70 billion in 2012 sales, but Amazon will inevitably pass them by soon, and I would say inexorably pass all but Walmart in a few years.

When you look at merchandise only, excluding media (books, music, etc.) and some other smaller categories, the numbers are even more impressive, with Amazon sales rising about 35% last year after even higher growth before that. Chart is here.

Yes, the growth rate appears to be slowing, but that's the law of big numbers. Merchandise sales growth of 35% at Amazon compares to overall US ecommerce sales growth of a little over 15% in 2012. Total US ecommerce sales in 2012 were about $225 billion, meaning Amazon has about a 15.5% share of US ecommerce sales (actually a little lower since that again includes Canada in Amazon's US numbers, but still staggering).

That growth is obviously coming out the hide (and bottom lines) of both brick and mortar and dot com retailers. Amazon is rapidly gaining share. Many companies are being Amazoned.
Profits? Well that is a different story. The chart here shows Amazon's income from operations and then net income for the last few years. The observations are obvious. With all that growth, income from operations has been declining, as well as net income, which amazingly came in at a slight loss for 2012, on $61 billion in revenue and 27% revenue growth. Both operating profits and net income dropped sharply in 2011 and 2012. Even operating profit was only 1% of revenue last year.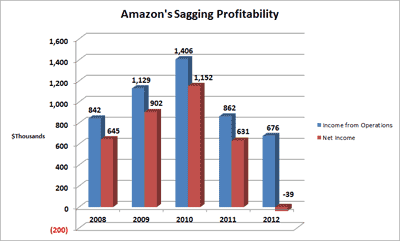 And Wall Street gives Amazon a pass. Despite very mediocre and falling profitability, to the point of a loss in 2013, rapid revenue growth and the vision of founder and CEO Jeff Bezos for world domination keep the stock price high. It is up from about $180/share to close to $280/share over the past 12 months. That is a luxury given Amazon's lack of earnings growth virtually no one else enjoys.
Of course, a major reason for that lousy profitability is Amazon's tremendous build-out of fulfillment centers. It now operates an amazing 65 million square feet of fulfillment space, give or take. It grew that space 57% and 36% in 2011 and 2012, respectively, in North America, and 68% and 74% internationally. It now operates about 35.6 million square feet in NA, and 30.7million internationally. It opened 18 new fulfillment centers worldwide in 2012. Those numbers are staggering and unprecedented. See chart.
Ok, last few things. Perhaps surprisingly, Amazon's fulfillment costs, which it says includes procurement costs (overhead), are actually rising. They were 8.2% of revenue in 2010, 9.2% in 2011, and 10.2% in 2012. That's a 20% increase in two years (see chart).

Amazon is using low/free shipping costs to drive its revenue growth. It's just released 2012 annual report says that "We believe that offering low prices to our customers is fundamental to our future success, and one way we offer lower prices is through shipping offers."
But, Amazon's DC build out is serving to reduce shipping costs, naturally enough, as the shipping points get closer to the customer (to the point of potentially enabling same-day shipping in select metro markets). As seen in this chart, Amazon says it lost 4.7% on shipping revenues (what customers pay) versus its actual shipping costs. We will also note that when (and it will come) Amazon does have to near universally charge state and local sales taxes, it will raise its prices by another 5-8% depending on the state).
Amazon Shipping Costs




But interestingly, shipping costs grew 29% on 27% revenue growth in 2009. However, that pace is down sharply from previous years, leading many Wall Street analysts to say the DC strategy to lower shipping costs is working.
Inventory turns at Amazon also dropped in 2012, down to 9 from 10 in 2011 and 11 in 2010. Not quite sure how to make sense of that either.
I am out of space, even though I have a lot more. Fortunately, you will find it all in the pdf document reference above. It tells quite a story.
After Amazon's Q4 and full year 2012 earnings call, I had a brief exchange with one of Wall Street's leading analysts that follows Amazon for a living. He asked to remain anonymous, but told me that "It's highly strategic and positive for Amazon to trade off fixed cost to get proximity to customers and benefit from lowering shipping costs. No one else can compete with Amazon on price eventually unless they spend the billions needed to replicate the fulfillment center footprint."
Not much to add to that. I have daughter in college who tells me she buys virtually everything she needs from Amazon. How about you? If you think about how Walmart permanently changed the retail game with its focus on supply chain, the story may be repeating itself here with Amazon and efulfillment.

What are your thoughts on this analysis of Amazon.com? Can Amazon be stopped? What is Amazon's impact on the supply chain? Let us know your thoughts at the Feedback button (email) or section (web form) below.