Retailers face a daunting challenge in retooling their supply chains to successfully service complex, multi-channel operations featuring increasingly localized store assortments.
Tackling this challenge requires a bit of "backwards thinking." Retailers must first determine the optimal inventory strategy for each item in their assortment and only then configure network infrastructure to support these complex flows.
If not well orchestrated, independent actions taken by people in different departments can combine to create a "perfect storm" - where inventory spirals out of control, choking the network and impacting service and bottom line performance. In many cases, it's very hard to see the incremental inventory creep until it's too late to react - forcing business unit managers to ask, "How did we get this bad?"
The supply chain of the future is designed on the foundation of a comprehensive, enterprise-wide inventory strategy in which representatives of key functional areas come together to critically evaluate all factors impacting inventory performance. In developing this inventory strategy, a number of questions are answered related to how the intersection of demand variability and volume relate to optimal flow path. For example, in the diagram below, companies will probably want a different inventory strategy for an item in the upper left quadrant as opposed to those in the lower right quadrant.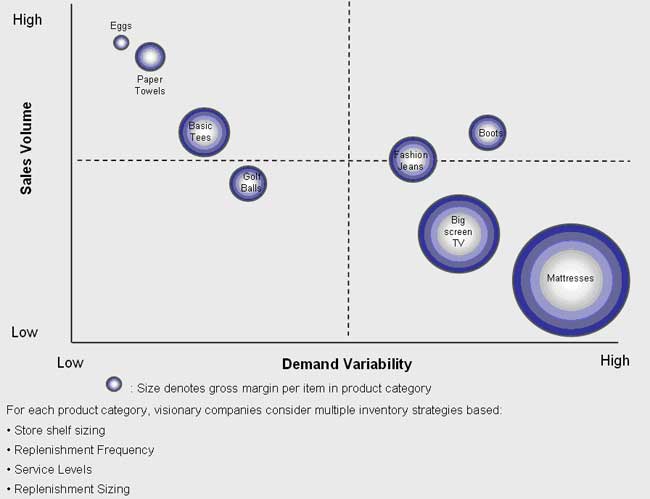 The answers to these questions will require a great deal of interaction across departments. Issues related to source of supply, transportation pipeline, product packaging, service strategy and other factors are evaluated by a team including Merchandising, Product Development and Sourcing, Distribution and Transportation, Store Operations and IT. Using the diagram above as the basis for discussion, for example, an inventory strategy might be for items in the upper left to be replenished as full cases directly from the vendor due to the high volumes and consistent demand, while a better option for an item in the lower right may be an assortment picked specifically for that store based on sales.
The resulting inventory strategy paves the way for the tactical development and execution of an inventory optimization plan incorporating a number of key elements, as shown in the chart below.
6 Areas Impacting Executing Inventory Optimization