Supply Chain Execution (SCE) is a term I believe was first created By what was then AMR Research (now part of Gartner) to describe a set of mostly logistics related applications (Warehouse Management, Transportation Management, etc.).
That is kind of interesting at several levels. First, the term never really much caught on with actual companies. SCE tended to be more used by the analysts, software vendors, consultants, etc. than practitioners.
Yet, if not SCE, then what? "Advanced Planning Systems" (APS) or just supply chain planning is of course widely used in companies, so it does seem we need some companion term for the execution side of the supply chain house.

Some companies might refer to "integrated logistics" or just logistics software, but I think the fact that some more general term for these applications as a whole is largely lacking is indicative of the fairly fragmented way that most companies have cobbled together those solutions. It occurs to me that there is sort of a natural flow of how planning has to work (demand plan, supply plan, inventory deployment, etc.), leading to a sort of holistic view of the software needed to support those processes.
But it just hasn't really gelled that way on the execution side. So since the best we have is Supply Chain Execution, we are going to stick with that here. And that in fact was part of the title of our just completed report on Supply Chain Execution Technology 2012, a benchmark study by our Chief Supply Chain Officer (CSCO) Insights research arm hope to repeat each year, with a few improvements already in mind for 2013. You can download a copy here: 2012 Supply Chain Execution Technology Benchmark Report (please note technology consulting firm Cognizant funded the research, so the report is on its site – very simple form to download).
This week, I am just going to summarize a few of the highlights, including a small number of the many charts in the report, based on survey data from more than 300 respondents (thank you).
First, in support of my contention that most companies tend to have very fragmented SCE technology portfolios, consider the following, which asked respondents to describe their current technology scenarios: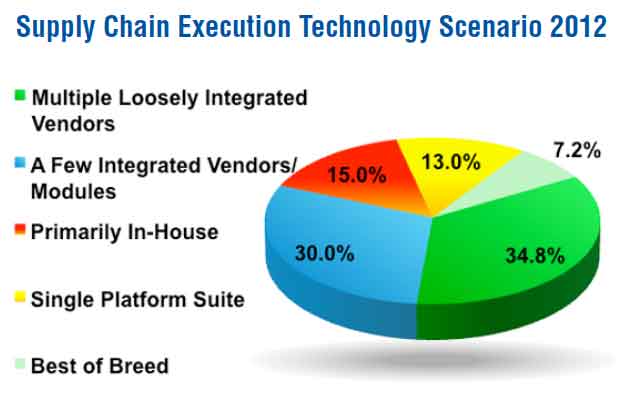 As can be seen, just 13% say they have a single platform suite.
But companies have a vision for a much more integrated approach in the not too distant future. When we asked respondents where they hope to be over the next few years, a very different picture emerges, as shown below: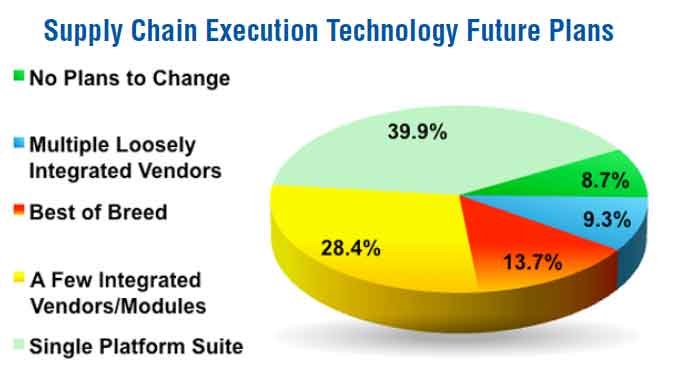 As can be seen, now nearly 40% say they plan to adopt a more unified, single vendor platform suite. Will they get there? That is another question of course, but you can see the intent. More on this "platform" concept in a few paragraphs.
We also took a deep dive in several areas. For example, we asked respondents to rate the capabilities of their current TMS on a scale of 1 to 5 (1 being the lowest, 5 the highest) across a number of specific functionalities. I don't actually ever remember someone doing this before.
The results are shown below.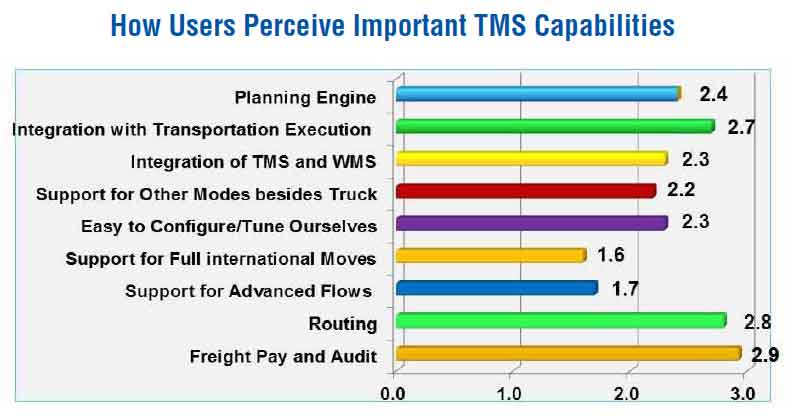 In general, the overall satisfaction is mediocre. Just a few categories made it over the mid-point of 2.5, with "freight pay and audit" and "routing" leading the way (two pretty basic functions), while "support for full international moves" and "support for advanced flows" such as cross docking and intermodal had the lowest rankings. Anyone that knows the TMS market should not be surprised by that result.
We also did the same sort of thing for WMS in the report.
One key trend among several we call out in the report is this SCE platform trend. First, not only have a number of vendors really started to get this right (i.e., deep integration across the suites), but companies are increasingly thinking about how building such a platform can drive real benefits in terms of flexibility down the road.
Please take a look at the Full Report. There is quite a bit of good stuff in it.

Do you like or use the term Supply Chain Execution? If not, what's the alternative? Do you think we will see more companies truly adopt integrated SCE platforms? Let us know your thoughts at the Feedback section below.