Piotrowski Says:

To some, the scope of Lean is confined to the production side of the business, but it can extend across and out- side the enterprise.

---
What do you say?
Send us your comments here
The concept of Lean means different things to different people. To some, the scope of Lean is confined to the production side of the business, but it can extend across and outside the enterprise.

Given that many Lean concepts have originated from Japanese culture, where balance, harmony, discipline, and organization are central themes, it is not enough to only use the individual elements of the philosophy. It is the holistic combination of these elements and their relationship to one another that make them most effective.
A Common Question About What Makes Lean Work
A common question is whether it's the tools and processes or the people that make Lean work. In reality, it is both. Applying Lean techniques within a traditional silo-oriented culture won't work. Lean, at its core, is a people-oriented initiative — with needed cultural changes driven at the C-level. In addition, measuring performance must shift from monitoring individual departments to measuring performance across departmental boundaries and the end-to-end delivery of services and products.
Tangible Opportunities To Leverage Lean Methodologies
As you might expect, the manufacturing and production floor offers the most tangible opportunity to leverage Lean methodologies. But the same principles can be applied across every aspect of the business, from engineering and design, to finance, to customer service, and sales. Every business is impacted by activities outside their organization, from suppliers, contractors, or customers.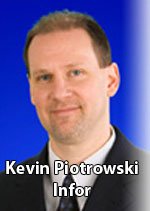 Market leaders recognize this fact and work to control and manage their total supply chain. Another important facet to a Lean initiative is the effective application of technology. The speed, volume, and complexity of business transactions dictates the use of technology to support communication and information exchange across departmental boundaries and supply networks.
Additionally, the application of Lean-centric technology can eliminate the redundant entry of information or reduce steps that traditionally required time and labor, such as issuing an automatic order acknowledgement.


Agree or disgree with our guest expert's perspective? What would you add? Let us know your thoughts for publication in the SCDigest newsletter Feedback section, and on the web site. Upon request, comments will be posted with the respondent's name or company withheld.