Unemployment remained over 9% until the very end of the year. Companies also continued to hoard dollars, with strong profits due to aggressive cost cutting combined with a decent economy spinning off a lot cash, but corporations weren't spending much of it. Cash holdings in the 1000 largest companies were up 11% in Q2 versus the prior, the last period for which data is available - and that was after record cash levels in 2010. We will note, however, that despite that, spending on supply chain software was strong during most of the year.
Select Supply Chain Numbers
Consistent with numbers showing general strength in manufacturing, US capacity utilization continued to rise, though more slowly than in 2010.
As shown in the chart below, after a rapid rise in 2010, factory utilization started the year at 76.9%, and ended November (last month available) up about a point, at 77.8%. That versus the 40-year average of about 80.4%. Growth in capacity utilization drives employment growth and gives manufacturers more pricing power. This metric bottomed at a modern day record low of about 65% in June 2009.
After some wild swings over the previous two years, the Inventory-to-Sales ratio remained basically flat in 2011, near record lows, as companies continue to focus heavily on inventory management.
Inventory levels had risen sharply in late 2008 into 2009, as the rapid collapse of demand caught companies short, then came down steeply for the rest of 2009 as companies pared inventories heavily. The metric has been pretty steady this then, falling very gently towards the end of 2011, down a bit from 2010 but mostly flat on the year.
Overall business inventories (green line) have settled just a tad above levels seen in 2008, but those represented record lows, as not surprisingly the overall trend continued to be lower inventory levels.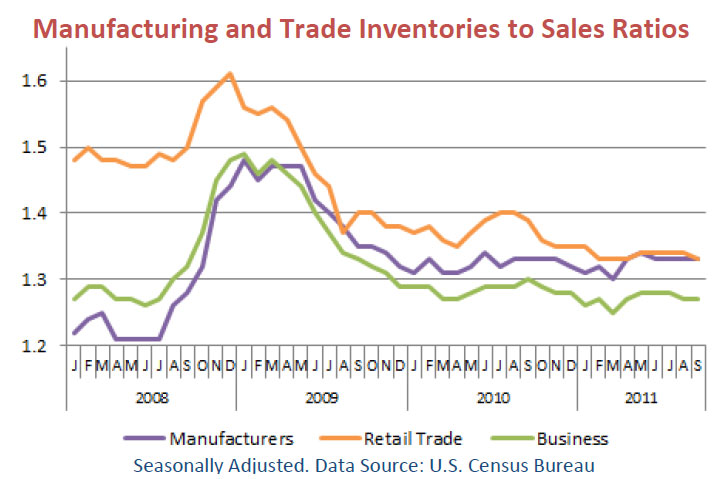 Oil prices as usual now it seems had a dynamic year, but ended the year up strongly. The chart below shows 2011 prices for West Texas Intermediate (WTI), which started the year at about $92.00 per barrel, spiked to as high as almost $115.00 in May, and ended it at about $101.00 - a 10% increase from the end of 2010. Brent Crude was up even more, rising about 13% during 2011, as the once greatly feared level of $100.00 per barrel has simply become commonplace.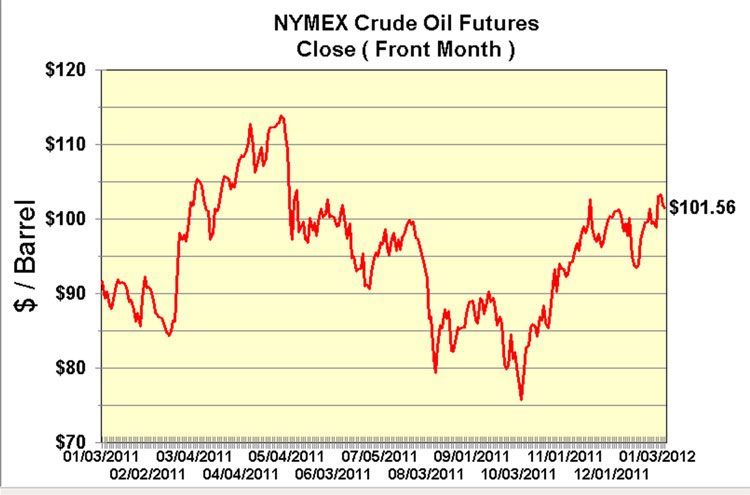 Continue to Page 2 of this Article
SCDigest is Twittering!
Follow us now at https://twitter.com/scdigest