SCDigest Editorial Staff
SCDigest Says:

Recent research from the Technical University Munich found that different RFID reading equipment (gate, truck-mount, forklift antenna) used has a major influence on the optimal tagging location

.

---

GSI EPCGlobal earlier this month released new guidelines for tagging pallets with ECP-based RFID tags.
The issue is an interesting one, because there are two primary purposes for pallet tagging. The first, primarily for re-usable pallets, is to track and manage the logistics asset itself. The second it to track the goods on the pallet.
This means that potentially two identifiers are needed: one for the asset, one for the load at a given point in time. At other times, re-usable pallet companies may care only about the former, while shippers may care primarily about the latter. However, in many cases both sets of data will be useful.
The identifier for the asset itself is call the GRAI, which is the GS1 Identification Key used to identify Returnable Assets. The key comprises a GS1 Company Prefix, Asset Type, Check Digit, and optional serial number.
The identifier for the load itself is call the SSCC, which is the GS1 Identification Key used to identify logistics units. The key is comprised of an Extension digit, GS1 Company Prefix, Serial Reference, and Check Digit.
It will vary for each company, but a graphic below in the new guideline gives one view of where these IDs might be relevant for supply chain/logistics processes (a) or asset management needs (b) across distribution activities.
The guideline then breaks this down with similar categorization by specific processes (order picking, inventory control, etc.).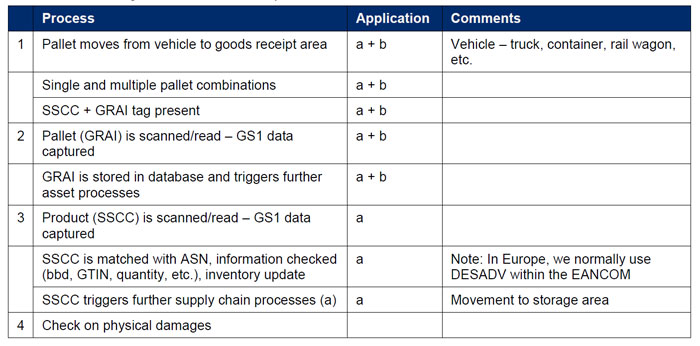 Source: GS1 EPCGlobal
Tagging Practices are Varied
One of the interesting points in the document is that there have been many views on the proper ways to tag pallets by pallet providers. For example,
A North American pallet company optimizes RFID tagging solutions subject to pallet type (material/dimension) and use case. On its most common wood pallets the company today recommends using 2 GRAI encoded EPC tags positioned at each diagonal corner of the pallet. The company further recommends the association (if desired) of the GRAI to other GS1 keys, e.g. SSCC, be made as a virtual association in the supporting information systems. As technology evolves the company will continue to optimize solutions based on read performance, cost and durability.
A European pallet company is using 2 tags in the corner opposite to each other. The tag contains three sections. One with the GRAI, the second stores a password and the third is available for SSCC or any other information.
This RFID-Auto ID Story is Continued Below