SCDigest Editorial Staff
SCDigest Says:

T
he use of regionals often makes the most sense when distribution centers are at least reasonably well aligned with the coverage of the big five regional providers

.

---

With DHL's exit from the US parcel market in 2009, some are wondering if it is time for more shippers to take a look at so-called regional parcel providers to take on some - or even a lot - of the parcel shipping load.
While UPS and FedEX serve global markets with a broad array of various services and pricing options, regional carriers, as the name suggests, serve a specific region within the US and generally offer more simplified services, They can often offer attractive pricing for those companies where the service makes sense.
There are five major regional carriers in the US:
Eastern Connection:

services the northeast and mid-Atlantic
Lone Star Overnight: Texas and several contiguous states
OnTrac: West coast, Arizona, Nevada, Utah
Spee-Dee Delivery: Illinois and upper Midwest
US Cargo: Midwest and some east coast
There are still smaller regionals, including local courier services, that cover smaller regions or even single urban areas. TransTek, for instance, covers Colorado, Nebraska and Wyoming.
An industry representative says that combined the major regional carriers cover some 80% of the US geography - major holes are in the Southeast, where the Carolinas, Florida, Tennessee and Mississippi are not well covered by regionals.
The regionals focus on deliveries from origin to zones 2-5, meaning roughly local delivery to as much as 1000 miles from the ship site. Most will say their services are designed to supplement that of a UPS or FedEx, not replace them. Still, for some shippers, moving some volumes to regionals can offer either better service or lower costs.
Peter Starvaski, director of product marketing at shipping solutions provider Kewill, says one internet retailer Kewill is working with is shipping some 65% of its volume via Eastern Connection, because the company's customer base is located largely in the Northeast.
"You can often get overnight service from a regional for the same cost as ground shipping from the big guys," says Starvaski, noting this can be an opportunity to either provide improved service at the same cost, or reduce inventories and/or look for better consolidation opportunities by taking advantage of the cycle time reduction from overnight service without increasing delivery costs.
Starvaski adds that the regional carriers often have fewer add-on or accessorial charges for such things as home versus business delivery, and that in general the regionals have much "flatter" rates.
Jerry Hempstead, a former parcel industry executive and now consultant to shippers, agrees that regionals can often be a smart choice.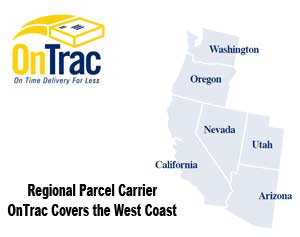 "Most shippers have the majority of their transactions moving within zones 2 to 4. This is the geographic service area that the regional carriers have as their core business. They offer guaranteed next day delivery (normally) for the turf that they serve, and they do this without aircraft," Hempstead told SCDigest. "The service is all on the ground. Often they can offer later pick up times versus the integrators because they don't have to chase a departing aircraft."
He adds: "Any shipper with volume should be considering one or more regional carriers in their mix. The cost savings can be 40% if you can substitute a regional carrier for an air transaction and normally they can save 5 to 15% on a head-to-head comparison of ground delivery tariffs."
He also says the regional carriers can offer often a degree of personalized service that is difficult for the larger integrators to extend to the global universe.
Even stronger, Hempstead says, "Any shipper of volume that is not entertaining offers from the regional carriers is being remiss in their stewardship of their company's shipments."
(Transportation Management Article - Continued Below)