The relative decline is even more severe in "high tech" manufacturing sectors, which the report defines as including medical products, pharmaceuticals, aerospace, and other sectors in addition to the electronics and computer industries.
While both California and the peer states lost "high tech" jobs overall, California's share of those jobs fell versus the peer states. In 1990, California was home to 22.3% of total US high-tech employment. That had fallen to 20.5% by 2000, and 19.5% by 2007. By contrast, the seven peer states saw their share move from 20.9% in 1990 to 23.9% in 2000 and 25.1% in 2007.
Why is California losing relative share of both overall and high-technology production and jobs?
A number of factors are involved, says the report, especially the state's tax and regulatory burdens. For example, "California is consistently ranked among the most challenging states in which to start a business, according to several research institutions," according to the report.
More specifically, the report cites the following issues:
Business Climate:

The state is viewed generally as a tough one to do business in;

Tax Policy:

California has the highest corporate and individual income tax rates among the peer states, and fourth highest nationally;

Regulatory Climate:

California

is ranked as the third most restrictive state with regard to regulation, according to the annual Economic Freedom Index – and that's up from sixth place in 1999; and

Government Spending:

Government spending per capita is more than any of the peer states, and growing faster.
If, in 2007, California had been able to maintain the 12.8% of all jobs that were in manufacturing as was the case in 2000, that would have led to an increase of 476,000 direct manufacturing jobs, with hundreds of thousands more jobs created because of the multiplier effect (see below).
Of course, all states and developed economies generally are losing manufacturing jobs to low-cost countries such as China, especially in low value-added production areas.
"For the United States to maintain high-technology and high-value-added production, it is critical for the states like California to recapitalize on their inherent strengths by investing in research and development and the creation of innovative manufacturing processes that maintain quality and increase efficiency," the report says. It adds, "To remain competitive and expand into new markets, companies must develop increasingly sophisticated supply chains and production models with suppliers and partners overseas."
Multiplier Effect
The impact from adding or retailing manufacturing jobs is huge.
The report says that overall, each manufacturing job creates an average of 2.5 jobs in other sectors. Astoundingly, the study says that for each job created in the high-tech sectors, as many as 15 other jobs are created.
In addition to reducing California's tax and regulatory burdens, the report recommends a broad, private-public partnership that would include a network of education, training, research, and business incubation centers around the state to develop a qualified work force, to invent and commercialize advanced techniques, and to assist manufacturing start-up businesses (see illustration).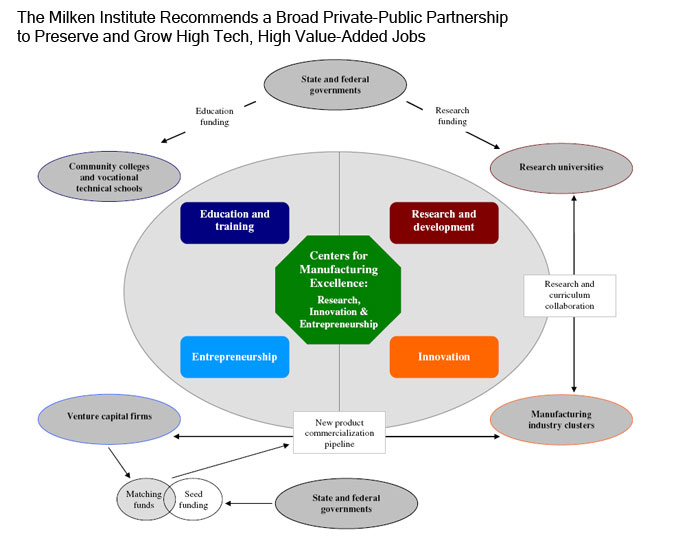 In many ways, the report's recommendations for California to regain its manufacturing sector advantage mirror those of the National Association of Manufacturers (NAM) for overall US competitiveness (see US Manufacturing Sector Structural Cost Disadvantage Shrinks, but Still is over 17% Versus Major Global Competitors on Average, NAM Report Says.)
"California's manufacturing industry, although in decline, holds the key to the state's economic growth," the report concludes. "The state's global reputation as the cradle of American ingenuity begins with California's manufacturers and depends on their capacity to compete…Therefore, as a critical engine of economic growth and a frequent catalyst for innovation, the decline of the state's manufacturing industry is the canary in the coal mine for the California economy as a whole."
Is California a bad state for manufacturing? Do individual states and the US as a whole need to develop more comprehensive private-public partnerships to maintain competitiveness in high value-added jobs? Let us know your thoughts at the Feedback button below.
SCDigest is Twittering!
Follow us now at https://twitter.com/scdigest