A little different approach to our Supply Chain Graphic of the Week this time, as we take a look at a coming new generation of much more aerodynamic tractors and trailers.
That approach was triggered by a news article we published earlier this week on several announcements relative to more aerodynamic trucks made at a major trade conference in Germany. (See European Expo Features New Highly Aerodynamic Tractor-Trailer Designs.)
First here are two alternative views of a new design by Germany's MAN Truck and Bus, which includes a new trailer designed in parallel by partner Krone. MAN in fact emphasized that to maximize results it is essential that the tractor and trailer be designed together as a single system.
This design represents the most dramatic change of the the ones we show here, but that is because it extends the total length of the truck beyond the current European limits. But, MAN says it wil deliver an average of 25% reduction in fuel usage through lower wind resistance. The company says the tractor-trailer could be commercially available in just 2-3 years if and when current length restrictions are changed.
MAN Truck and Bus Design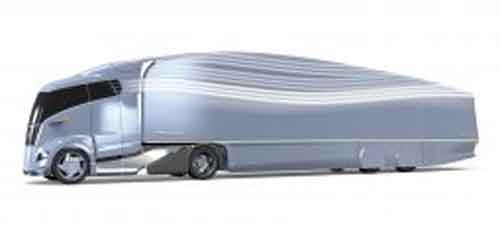 Prototype Vehicle was Actually On-Display at the Expo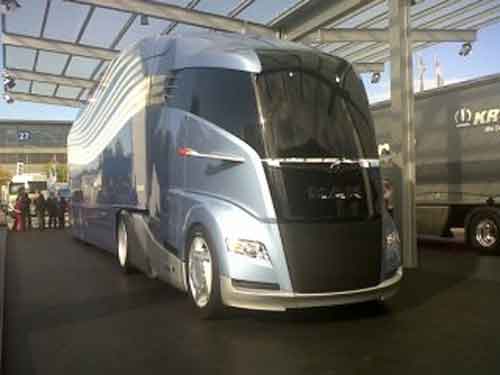 Renault of France also unveiled a concept for more aerodynamic trucks that meet current length limits, but will deliver lower mileage improvements tham the MAN design that lengthens the vehicles.
The company said the sleeker design will be delivered for its three major models in 2013, as well as a change in engine technology that it says will also significantly improve mileage.
The Renault trucks will feature what it calls "active areo," in which various fins and panels move intelligently as the truck goes down the highway to alter the air flow, reducing the truck's drag coefficient. It features a tubular structure, made of carbon fiber and aluminum, and a panel which slides down (on the very front), while the truck is traveling at speed, to further reduce its air resistance.
It did not have a real vehicle at the expo, just an animation, a screen capture of which is shown below. The total design also includes a much more fuel efficient engine.
Renault "Active Aero" Approach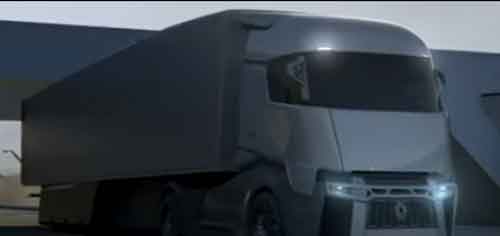 Finally, earlier in the year Freightliner unveiled its concept for the Cascadia Evolution, which will combine a more aerodynamic design plus a retooled engine, which the company says together will deliver diesel mileage of more than 10 miles per gallon. The trailer was designed by Daimler, Freighliner's parent company.
The truck will be available in the 2014 model year. The mileage estimates come from results achieved by actually driving the Cascadia Evolution across the US earlier this year
Freightliner Cascadia Evolution 2014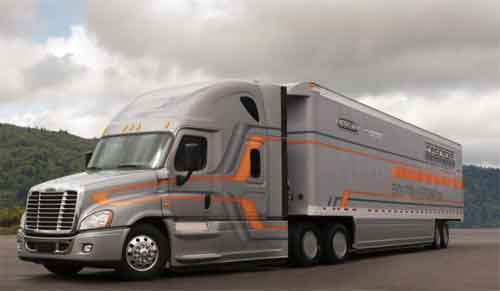 We're sure there are more out there and/or coming. We'll keep you posted, as this could all have a major impact on transportation costs and carbon emissions.
Any Feedback on our Supply Chain Graphic of the Week? Let us know your thoughts at the Feedback button below.