A clear bright spot in the US economy has been manufacturing, which continues to out perform.
Among the many signs of this is the steady uptick in US capacity utilization since the recession began and the economy soon reached its nadir.
The chart below illustrates this metric from the Federal Reserve from mid-2007, when the economy first started slowing a bit, through the bottom in June, 2009, to the recently released number for April.
At a level of 79.2, capacity utilization is just a hair below the long-term average of 80.3%. (We will note this measure includes mining and utilities in addition to manfacturing, but the shape of the curve and improvement for manufacturing only is almost identical. The current manufacturing level is 77.9%, and the long run average is 78.8%.)
US Capacity Utilization (Manufacturing, Utilities, Mines)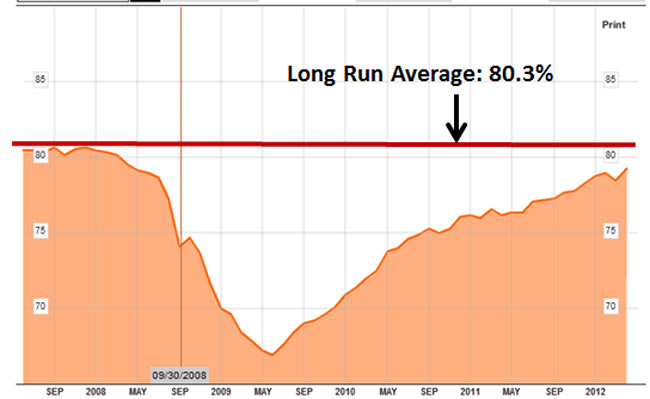 Source: US Federal Reserve

This is of course goods news, as it shows not only manufacturing strength, but in the end higher utilization also drives jobs, wages and price increases for manufacturers, as well as durable goods orders needed to make more stuff. A virtuous cycle, as they say.
In the mid 1990s, the utilization level got all the way up to the mid-80% range for a period.
Where will we go from here? That is the trillion dollar question for the economy, especially with many signs the US and global economy is slowing a bit, but that was true in the summer months in 2010 and 2011 as well, before growth got stronger each time again in the Autumn months.
But US manufacturing continues to grow at a faster rate than the rest of the economy, as plotting GDP growth would not look nearly as impressive as this chart does.
Have a comment? Send it at the Feedback button below.