We always look forward to the annual Retail Industry Leaders Association (RILA) supply chain study, now in its third year, and released a few weeks ago in conjunction with RILA's annual logistics conference.
As for all three years, the research effort was led by Dr. Brian Gibson of Aubirn University, this year with assistance from his Auburn colleague C. Clifford Defee.
We did a full review and comment on the report two weeks ago (see Third Annual RILA Supply Chain Report Finds Pure Cost Gutting Drops Sharply as Key Strategy, Multi-Channel Commerce Continues to Be Major Area of Focus), but did not include in that article the graphic below that was featured in the report defining what the it calls "best-in-class" retail supply chain capabilities.
RILA Model for Best-in-Class Supply Chain Capabilities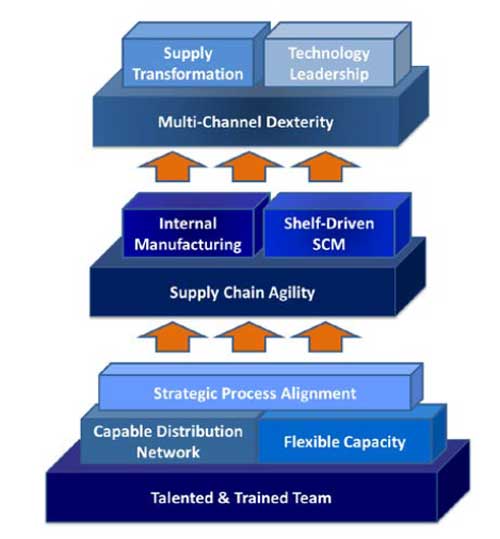 Source: Brian Gibson, C. Clifford Defee, RILA
The model is largely self-explanatory, though there is more detail in the full report itself, a link to which is available in the SCDigest review article found in the link above.
A couple of things stuck out to us:
We like the foundation focusing on human resources and internal talent.
We also like the recognition that the supply chain must really be centered all the way down to the shelf.
Goes without saying today that multi-channel excellence has become a core capability requirement.
Finally, we wonder a bit about the "internal manufacturing" block. The report says "Leading retailers enhance private label performance by owning and operating the production level of the supply chain."
The report says the practice is common in grocery retail (Kroger, Meijer), and says the practice can also be found in the apparel and other retail. Is it a best-in-class capability others should strive for? We think that idea needs a lot more research and debate. It obviously ties into the whole "core versus context" analysis.
Have a comment? Send it at the Feedback button below.