While the Japan earthquake and tsunami of 2011 was a terrible tragedy at a human level which will persist for many years, there were a number of supply chain lessons learned that will also help with risk management for years to come.
The bottom line is that few companies, if any (Apple?), operating multi-tier supply chains really understand there full supply network.
That point was driven home very effectively by Dr. Thomas Choi of Arizona State University on a recent Videocast on our Supply Chain Television Channel. The main message in that broadcast, which also featured Tom Linton of Flextronics and Rich Becks of software provider E2open, was that "giving up your full bill of materials" to tier 1 suppliers carries more risks than many companies realize. (Too see the full broadcast, go to Managing Risk in a Multi-Tier Supply Chain.)
Somewhat ironically, Choi had not long ago spent three years mapping Honda's full supply chain for just one "module" - the center control panel that goes between the front seats and contains the tremendously important cup holders. He made the effort as a result of a grant from the National Sciences Foundation.
Why ironic? Because earlier this month, Toyota anounced it had finished a nearly year long effort to map its full supply chain, at least among the roughly 50% of tier 1 suppliers that were willing to expose their sub-suppliers. The goal: reduce "time to recovery" from another similar disaster from six months to two weeks.
Toyota said the mapping exercise exposed hundreds of supply chain risks it did not know existed previously.
Below is the graphic Choi produced of Honda's center console multi-level supply chain based on his research.
Honda's Supply Chain Map for Its "Center Module"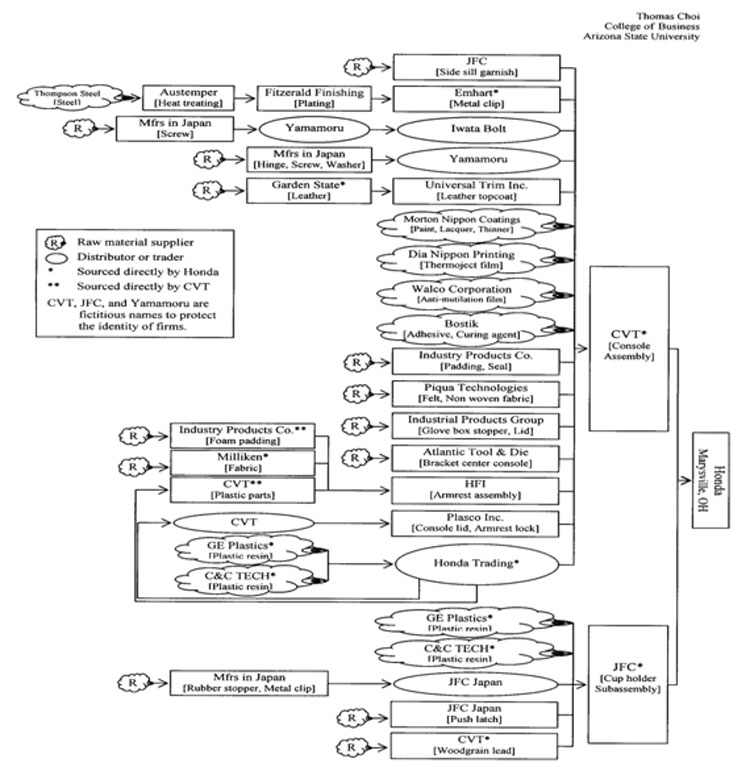 Source: Dr. Thomas Choi
The point of course is not in the details of this map, which are almost impossible to make out, but rather that even a great company like Honda had noting "off the shelf" to provide Choi. He had to take three years to ferret out the details.
This is changing.
Have a comment? Send it at the Feedback button below.