The drama over working conditions in Apple's outsourced supply chain continued on this week, as the company announced the first audit of a supplier - iPad assembler and giant contract manufacturer Foxconn, naturally enough - had commenced using a team from the Fair Labor Association (FLA) in "Foxconn City" near Shenzhen, China. (See The Price of Success, as Apple Announces it has Rolled Out First Supplier Inspections with the Fair Labor Association.)
The FLA team on the audit is in fact led by FLA president Auret van Heerden himself.
This came about from a committment Apple had made in late January in its 2012 Supplier Progress Report to use the FLA - a workers rights organization - to conduct 5% of its total supplier audits in the coming year.
That Apple progress report detailed the results of 229 audits the company conducted in 2011 at both first and second tier Apple suppliers, meaning both final assembly operations and component suppliers. That was an 80% increase in the number of audits versus those performed in 2010.
The whole mess in a sense started in 2010 when a nunber of suicides - as many as 18 - were reported over a short span at the Foxconn assemply plant. More scrutiny and reports of worker abuse at Apple's offshore suppliers followed.
The chart below is taken from the 2012 Progress Report, and represent the percent of the 229 audits that showed the supplier was meeting specific items from the more than 100 in Apple's Supplier Code of Conduct.
Apple's Audit of Select Requirements for Treatment of Workers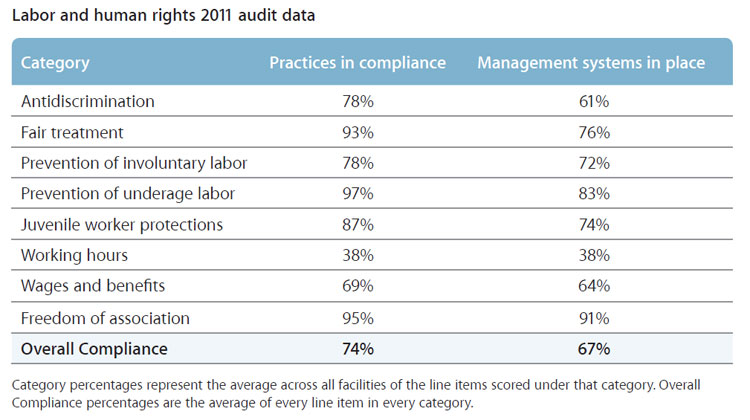 Source: Apple
The code of conduct also contains a number of requirements for environmental practices as well.
As this progresses, we can't help but have two questions:
1. What is the impact on costs going to ultimately be? Clearly manufacturing costs at CMs will rise as abuses are reduced.
2. How soon before other companies will have to take similar steps as Apple has done?
This is a gamechanger, we believe.
Have a comment? Send it at the Feedback button below.