It's been a nice financial ride for several years, and that continued again in the third quarter, as all four large public US rail carriers enjoyed highly profitable Q3 results. (See Rail Carrier Profit Engines Roll On, While LTL Sector Slowly Crawling Out of Its Hole.)
From our summary of those Q3 results, we thought it was worth rpeatng the graphic below, taken from Union Pacific's Q3 earnings call presentation a few weeks ago.
It shows the year-over-year effective rate increases UP has been able to achieve over the past seven quarters.
Union Pacific Year-over-Year Rate Increases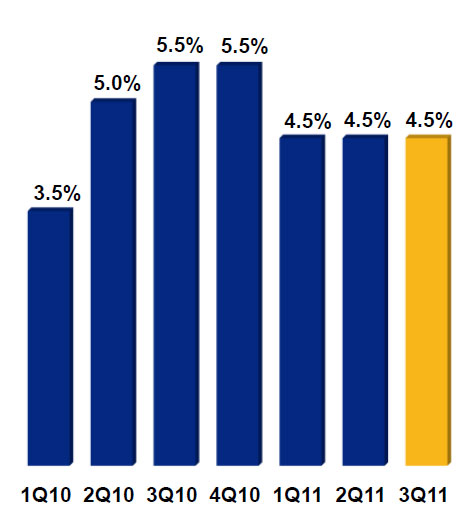 Source: Union Pacific Presentation
Q3 marked the third straight quarter with rate increases of 4.5%, while the three quarters before that all showed rate increases of 5% or more.
So, a 5.5% increase in Q3 2010 followed by 4.5% this year means that rates are up 10.2% at UP since Q3 2009. The basic storyline is the same at all four carriers.
Maybe in once sense that's not much since the dark days of that year, but still an interesting trend given that carload volumes in Q3 were mostly flat at UP, CSX and Norfolk Southern. Only Kansas City Southern saw a notable rise in volumes in the quarter, up about 13%.
Obviously, the concern for shippers should be whether this pattern will continue into 2012 and beyond. Our guess says Yes unless the economy tumbles back towards recession.
Have a comment? Send it at the Feedback button below.