Vendor Compliance prorgrams, most notably in retail, can sometimes be controversial, especially from the vendor/manufacturer perspective, where there are complaints that some retail compliance programs are capricious and extract penalties beyond the cost to the retailer for the problems in the shipment.
As we have explored this topic over the last few years, our views are admittedly changing a bit on this, as we have come to understant how the best retail compliance programs really are about improving supply chain performance and the flow of goods, not about "chargebacks."
That is in a real sense illustrated in the graphic below, a Vendor Compliance Program Maturity Model that was used by Greg Holder, CEO of Compliance Networks, in a recent thought leadership video on keys to compliance program success (to see the full short video discussion, go here: Getting Vendor Compliance Programs Right.)
Too many retailers, Holder says, get stuck in level 1 type programs, without fully leveraging that foundation to move to higher levels of performance in terms of supply chain visibility and then predictability. Holder says that many, however, have moved to level 2 maturity, and a few leaders are starting to advance to level 3 type thinking and program development.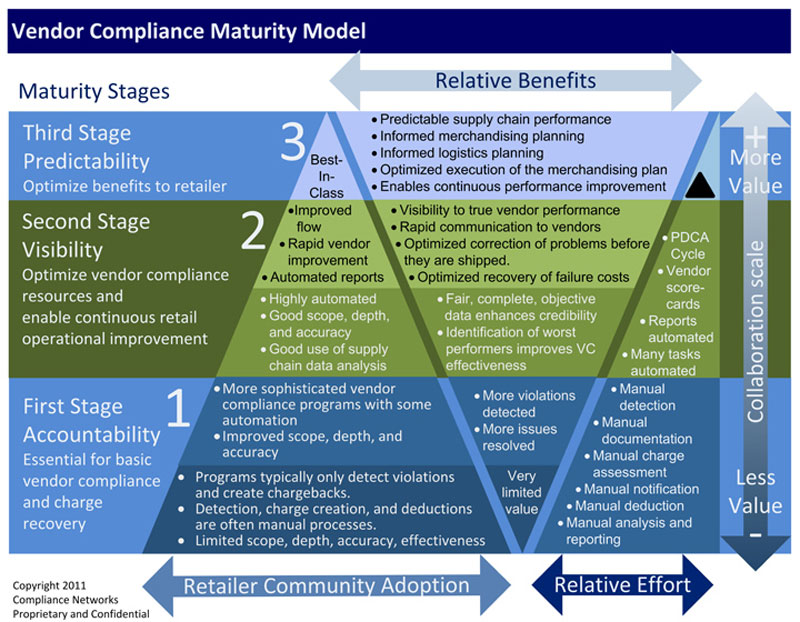 Source: Compliance Networks
While this model and the whole topic of vendor compliance tends to have a heavy retail slant to it, we believe the model could also have a lot of applicability for non-retailers relalative to how they might think about their vendor relations programs.
Any reaction to out graphic of the week? Let us know your thoughts at the Feedback button below.