Earlier this week, we published an article on new analysis from Boston Consulting Group that predicts that by 2015 the manufacturing cost difference between the US and China will virtually disapear due to rapidly rising wages in China, expected increases in the value of the Yuan currency, and greater labor flexibility in many regions of the US.
Considering total supply chain costs, the US is likely to enjoy a "manufacturing renaissance," according to BCG. (See New Study from Boston Consulting Finds China Manufacturing Cost Advantage Over US to Disappear by 2015.)
An interesting chart from the BCG report made available to the mediathis week is shown below. It graphs three variables from 2000 through the 2015 forecast period: (1) Chinese labor cost savings, (2) China total cost savings (before costs of a longer supply chain, e.g., inventory costs), and (3) the relative productivity used in making the second calculation, using production costs for a product that has 20% labor content in its standard cost.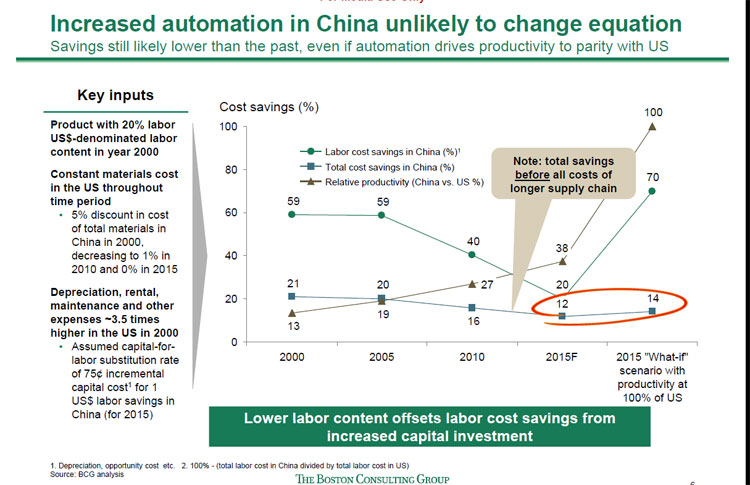 As can be seen, China had a huge labor cost advantage even factoring in productivity differences in 2000, with a 59% labor cost advantage and a 21% total manufacturing cost advantange.
But BCG forecasts that will shrink to just a 12% difference by 2015, to the point where the additional costs and risks from a China sourcing strategy will just not be worth it for many companies, at least for their domestic markets and some export markets. Manufacturing in China for the Asian market, however, would have different cost dynamics.
Even if China was to achieve complete labor productivity parity with the US by 2015 (highly unlikely), the cost advantage before longer supply chain costs would still shrink to 14%, BCG's analysis says.
This could get interesting. Companies pursuing "nothing but China" strategies may want to reconsider.