It's no secret that more than ever most company CEOs view innovation as essential to top line growth and business success in the current environment, as survey after survey attests.
It's also no secret to many that supply management as a discipline can be a highly effective source of that needed innovation - but how well that knowledge is actually put into practice is, from our view, a whole other question.
A new report from CAPS Research - the research organization affiliated with the Institute for Supply Management at Arizona State University - focuses on the potential for "Innovation Sourcing," and offers some excellent insight into how companies can best leverage procurement/supply management to drive innovation in products and processes.
We are going to publsh a more detailed review of the report soon, but for now will offer the chart below as our Supply Chain Graphic of the Week. Taken from the report, the chart provides a framework for what companies need to consider if they want to maximize the opportunities to drive innovation through supply management operations.
A Framework for Supply Management-Driven Innovation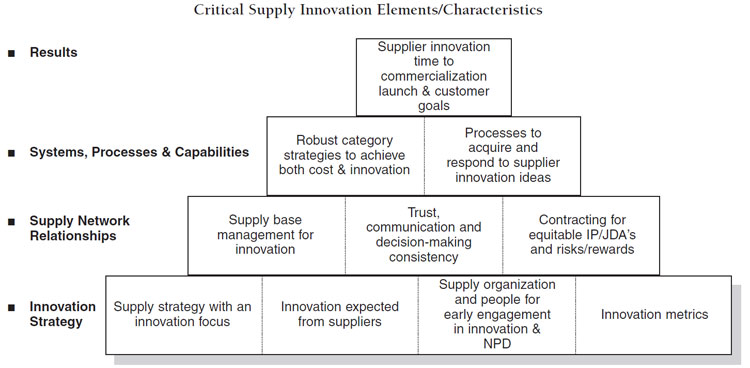 Source: CAPS Research
The report says that "firms have not yet fully established how they will most effectively leverage external supplier capabilities to accelerate innovation to the benefit of both buyers and suppliers... Innovation sourcing is in the early stages of development at most firms."
We agree - how about you?
Agree or disagree? What is your perspective? Let us know your thoughts at the Feedback button below.