Would you believe that with US unemployment still very high, many factories are having a hard time finding workers?
It happens to be true, with an article in the Wall Street Journal this week one of several sources recently noting the trend.
The chart below shows actual and projected manufacturing employment in the US. After years of decline, capped by the sharp drop during the 2008-09 recession, manufacturers have started hiring again, albeit slowly. The 25,000 new manufacturing jobs added in April marked the seventh consecutive month of factory employment gains.
Interestingly, the projections in the chart below show that US factory employment could just about reach pre-recession levels by 2014.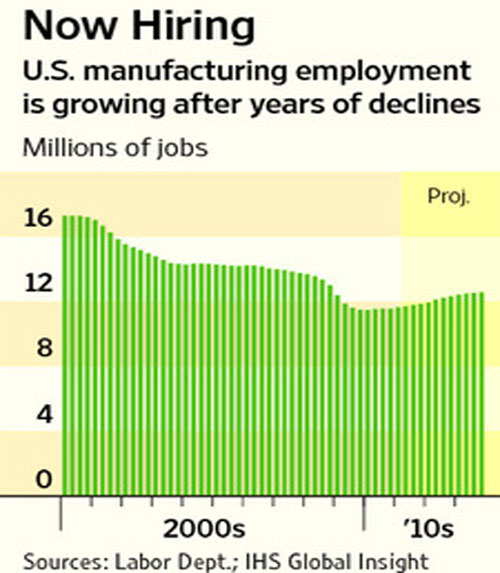 Source: Wall Street Journal
But could those job gains be even higher? US factories are struggling to find workers to take available jobs despite the still lousy overall employment landscape.
A Bayer plastics factory in Bayton, TX says it now received about 10 applicants for some open positions when it used to receive about 100.
The causes of this employment gap? Younger workers just don't want to work in factories any more, and many jobs require advanced skills too many US workers lack, among other factors.
Agree or disagree? What is your perspective? Let us know your thoughts at the Feedback button below.