Maybe it's not a surprise, but we still found very interesting the data recently released from the Wall Street analysts at Wolfe Trahan on the clear linkage between the level of oil/diesel prices and the plans for shippers to move freight to and from rail versus trucking.
The chart below was taken from the latest "State of the Freight" report from Wolfe Trahan, release in mid-March, which as usual summarizes the responses from several hundred shippers on a variety of logistics topics. (See Latest ''State of the Freight'' Report Finds Shippers Expect Big Rise in Trucking Costs, Shifting more Freight to Rail and Intermodal.)
The chart below from that report shows quarterly expecations for moving freight from truck to rail and vice versa, based on the survey results, versus changes in oil prices, which serve as a proxy for the diesel prices that most directly impact shipping costs.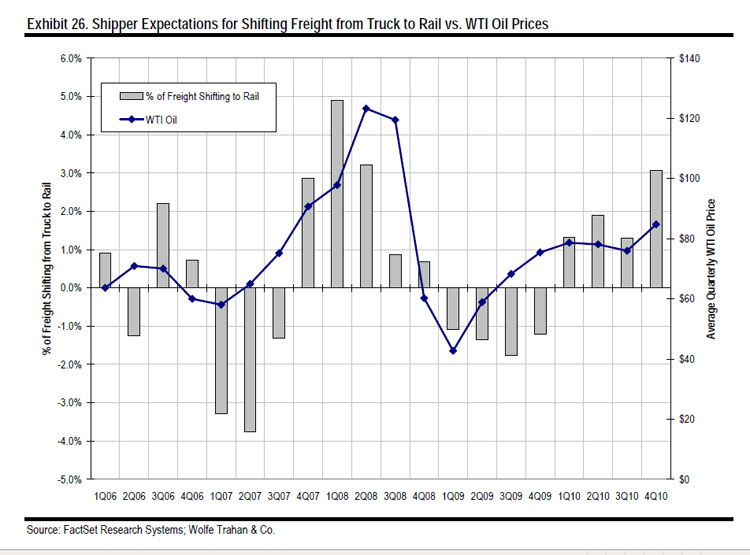 As can be seen from the chart, the plans for mode shifting are highly correlated with changes in those oil prices. As oil prices rise, as has been happening over the past year, the level of freight planned for diversion to rail rises substantially.
Conversely, when oil prices fall, as happened during the recession starting in late 2008, shippers plan to move frieght volumes back to truck for convenience and service reasons during a time of falling overall logistics costs.
Obviously, many shippers cannot switch modes for a variety of reasons, and previous Wolfe Trahan research has shown plans to divert freight, especially from truck to rail, often exceed what actually happens.
Agree or disagree? What is your perspective? Let us know your thoughts at the Feedback button below