The world has never seen anything like the rise in Chinse economic clout.
Earlier this week, we did a story on the rise of Chinse economic might over the last decade, and how that has dramatically affected the global and political landscape and the economies of countries across the globe. (See When the History of the Early 21st Century is Written, Ascent of China Likely to Top the List, with Dramatic Impact on the Global Economy.)

That story in part referenced a recent article in the Wall Street Journal, from which the graphic below is taken.
It shows how China has moved from being the number 1 trading parter of none of the G-20 developed economies in 2000 to being tops with six of them today a decade later, and number two with five more, including the US.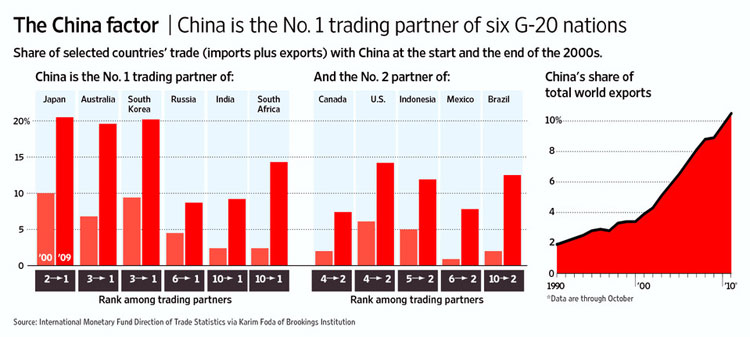 Source: Wall Street Journal
Perhaps more stunning is the growth of China in terms of total world exports, as shown in the right side of the chart. In just 10 years, China has moved from having about a 3.5 share of total exports to almost 11% today.
This is unprecedented in world history.
As our article points out, this is having the effect in case such as Brazil and Australia of pushing a country's economic foundation back from a manufacturing one to one based on commodity exports to China - thought historically to represent a less developed state, and leaving many wondering just how dependent they will become on the Chinese Dragon.
Agree or disagree? What is your perspective? Let us know your thoughts at the Feedback button below.