With oil prices at about $100 per barrel and both gasoline and diesel fuel prices rising rapidly, we thought it would be good to take a look back at diesel prices over the past five years.
As shown in the graphic below, taken from a recent report from transportation market analysts at AvondalePartners, the overall trend since 2006 is clearly up. In 2007, 2009 and 2010, that meant a slow and steady rise almost through the entire year.
2006, when we first heard warnings of $100 per barrel oil, diesel prices rose rapidly in the first half of the year only to give back a lot of those gains and end the year up just six cents.
2008, of course, was the year that saw dizzying increases in oil and diesel costs through July, only to start a sharp decline in August that accelerated after the financial crisis in the Fall that ultimately borught prices from then through most of 2009 that remained the lowest levels of this five-year price history.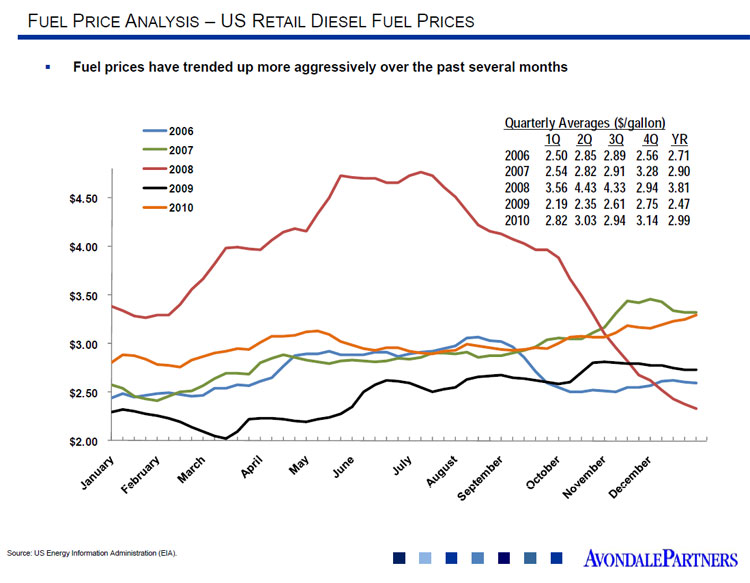 But prices started rising from the depths of that price collapse in late March 2009, and other than a brief lull in mid-2010, have lept heading north at a steady pace.
At the end of 2010, US diesel prices at about $3.14 a gallon (which have increased since then) are about 26% above the $2.50 per gallon the market saw at the start of 2006.
But still headed the wrong way.
Agree or disagree? What is your perspective? Let us know your thoughts at the Feedback button below.