By George Anderson, Editor-in-Chief, Associate Publisher, RetailWire
Fewer than 20 percent of consumers trust food companies to produce and sell products that are safe and healthy for them to eat, according to a new study by IBM.
Sixty percent of consumers in the 10 largest cities in the U.S said they were concerned about the safety of food they buy.
The large number of well-publicized recalls in recent years appears to have had an effect on consumers' perceptions of food safety. A total of 83 percent of respondents said they could name at least one item recalled over the past two years. Forty-six percent mentioned peanut butter, the most frequently identified recall of the past two years. Spinach was mentioned by roughly 15 percent.
"Across the board, consumers are demanding transparency and more information about the food they purchase to ensure their safety and that of their families," said Guy Blissett, consumer products leader, IBM Institute for Business Value, in a press release. "As the government, industry associations, retailers and manufacturers work through the operational issues associated with ensuring food safety, we can each become more aware and take greater responsibility for the food we purchase."
Seventy-seven percent of consumers told IBM they want more information on the food they purchase.
Seventy-six percent want to know about a product's origin(s). Roughly 76,000 people become ill each year due to food poisoning with 5,000 dying.
"The ability to trace a contaminated product all the way back to the source of production is key to modernizing our food industry. It would also allow producers to more precisely identify the source of a problem in order to improve production practices and could help narrow the scope of recalls by more quickly identifying the specific plant or country of origin," said Caroline Smith DeWaal, Director of Food Safety, Center for Science in the Public Interest.
Discussion Questions for the BrainTrust Panel: Are consumers more concerned about food safety today than in the past? Are the right steps currently being taken by the food industry and government to create a significantly safer food supply?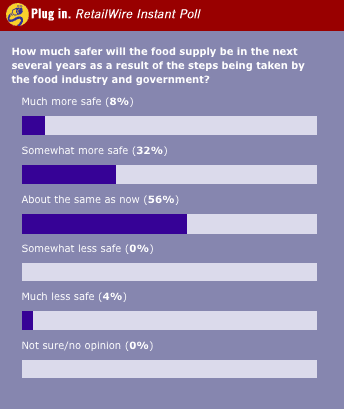 RetailWire BrainTrust Comments:
This survey was released on Wednesday this week during a Food Safety Forum on Capitol Hill. Several stakeholders spoke, including food manufacturers (from Europe, US and Canada), a member of Congress, the FDA, consumer advocates and food scientists. Several concurrent actions are being taken around the globe. This was the first time I know of that this wide range of "influencers" were gathered in one place in front of lawmakers in Washington, D.C. to address the problem. The forum proved overwhelmingly successful and the feedback was that it needed to be longer in duration since there was so much to discuss.
Bottom line, the coordination of all the activities around the globe has begun. It is up to all stakeholders to define the actions to secure the safety of the world's food supply, and then implement across borders.... Easier said than done, but we won't give up.
Ralph Jacobson, Global Consumer Products Industry Marketing Executive, IBM
---
There are a bunch of thoughts that come to mind here. The fundamental fact is that our food supply chain is amazingly safe. Despite the high profile recalls, the shear volume of products going through the food supply chain without difficulty is what makes it so difficult to apply technology. Even the IBM article admits that the top reason for consumers adjusting their purchasing has been to save money. I believe consumers are comfortable that businesses do not want to be associated with a contamination outbreak. They understand that lot numbers and production dates on retail containers provide them the information necessary to implement recalls. Even with serial numbers on every container and RFID readers at every transfer point feeding data into backroom databases, consumers will want to read the label. The effort must continue to be on preventing contamination and damage, rather than trying to contain it after it occurs.
Having said all that, I am reminded of the following statement; "It is of no comfort to the family of a man who just drowned to be told the average depth of the lake is only three feet." If I was the one victimized by tainted product I would have preferred it had been removed from the shelf.
Bill Bittner, President, BWH Consulting
---
Charles Walsh, President, OmniQuest Resources, Inc. Says:

It is an industry imperative and responsibility to manage the safety of their product from field to the dinner table and to do so before an unwieldy and costly government regulatory body takes the reigns of opportunity away from them

.

---
What do you say?
Send us your comments here
American consumers' perceptions of food safety have been raised as a result of a number of extensively covered contamination issues over the last several years including beef, spinach, candy, fruit and vegetables.
Does this increased awareness translate into a de facto consumer demand for more transparency and food source information? I don't think so.
Does this also mean that consumers' buying habits will be impacted in the long term? I don't think so.
Should the food industry, through its associations and members, take a hard look at safety and source track? Absolutely.
American Consumers are forgetful; remember the beef and tomato and spinach scares? They all had short-term impacts, but longer term, the consumers go back to doing what they do best, buying what they want.
It is an industry imperative and responsibility to manage the safety of their product from field to the dinner table and to do so before an unwieldy and costly government regulatory body takes the reigns of opportunity away from them.
Charles Walsh, President, OmniQuest Resources, Inc.
---
Worries about food safety, especially when it concerns food for children, have always been serious business for those of us in first world countries. At the same time, I agree...that food scares are getting more publicity than in the past. One reason for that is Web 2.0, in which the dire aspects of news can grow exponentially as information propagates on a social network.
With the increased clout the Obama administration is giving to the FDA, we can expect more food scares to show up, at least in the short term until the growers and manufacturers straighten out problems. For retailers and those of us who work with retailers, it can be useful to recognize that because of how our brains handle fears, some of a shopper's behavior can get downright superstitious.
Bruce Sanders, Ph.D., Partner, Retail In Motion, LLC
---
Read the entire story and RetailWire discussion at:
http://www.retailwire.com/Discussions/Sngl_Discussion.cfm/13833
Get Plugged in with RetailWire.
Membership in RetailWire.com is free to all retail and related industry professionals. Simply go to www.retailwire.com and click the FREE REGISTRATION button.