This column is based on a presentation I gave on eFulfillment at the Material Handling and Logistics conference in Park City, UT in early September. It was pretty well received out there. I hope you will enjoy this version too.

I was asked in part by the conference organizers to define "omni-channel" in the presentation. I did - it means "all the channels." Now you know.

Multi-channel (I still like that term better than omni-channel, though will note Macy's has someone with the title of VP of omni-channel, which would sound impressive at a cocktail party for sure) madness clearly continues on.

Despite the rapid growth of e-commerce, not many companies seem to be making any money at it. It is a strange conundrum indeed.

---

I was at a private company meeting where a large regional grocery chain noted its number 1 corporate priority was e-commerce. All hands on deck. Major investments being made.

Think it is safe to say that Amazon Fresh, the company's on-line, same day grocery service, has brick and mortar food chains a bit concerned, to put it mildly.

But don't think for a second that e-commerce/multi-channel is just a retail thing. Obviously this impacts consumer goods manufacturers in the end. But even what industrial products company isn't impacted by e-commerce one way or another, in terms of its channels of distribution, order profiles, and more?

Amazon Supply, an e-channel for MRO items, is a growing force. Competitor Grainger recently noted how web ordering has changed its fulfillment requirements enormously, as business customers now place orders after the first shift is over, in mid-afternoon, and Grainger promises those orders will be picked and shipped that same day.

I've got a million of them, as an old stand-up comedian used to say.
Every month, there are more chinks if not outright holes in the walls of manufacturers that have been reluctant to sell on-line for fear of angering retail channels. Of course, taking this step is far from just a matter of channel policy - it also requires building or sourcing fulfillment capabilities that usually are just not there presently.
In an amazing move announced this week, consumer packaged goods giant Procter & Gamble said it has been piloting a program in partnership with Amazon such that Amazon is operating mini-fulfillment centers within P&Gs own mixing center DCs to support Amazon's fulfillment efforts for on-line orders.
It turns out P&G began sharing DC space with Amazon around three years ago and has expanded the practice since then. Amazon is now inside at least seven P&G distribution centers world-wide, including spots in Japan and Germany, according to an article this week in the Wall Street Journal.
Why this unusual arrangement? Because despite the rapid growth of e-commerce, not many companies seem to be making any money at it. It is a strange conundrum indeed.
Amazon until about a year and a half ago was growing about 40% year over year each quarter, a rate that due to the law of large numbers has fallen to a still impressive 22% or so in recent quarters. It had $15 billion in sales in Q2, and is likely to be a $75 billion company in 2013, with a true global presence. And Amazon's growth by definition has to be coming out of someone's hide - there are only so many mom and pops to take under, especially after Walmart and others did most of that work over the past 20 years. People talk about the risk of being "Amazoned."

But despite that continued robust top line growth, Amazon still can't make any money, 17 years after its founding. In the second quarter, it basically broke even, losing $7 million, similar to the results it has had almost every quarter in recent years. Yet, its stock continues to soar, as investors say they will patiently wait for all the spending to eventually deliver big profits.

But they have been saying that for more than 10 years. Maybe someday it will actually prove correct. I will note Amazon's cash flow is stronger than its earnings, but it is not exactly a cash flow machine either.

Fulfillment costs are a huge part of the problem, as shown in the chart below. Those costs have risen at Amazon from 8.2% of sales in 2010 to 11.18% in Q1 2013 (I haven't tracked down the Q2 number yet; Q3 earnings will be released on Oct. 24). It is important to note these numbers do not include shipping costs, just the costs of getting the goods into its fulfillment centers and picked and ready for shipping.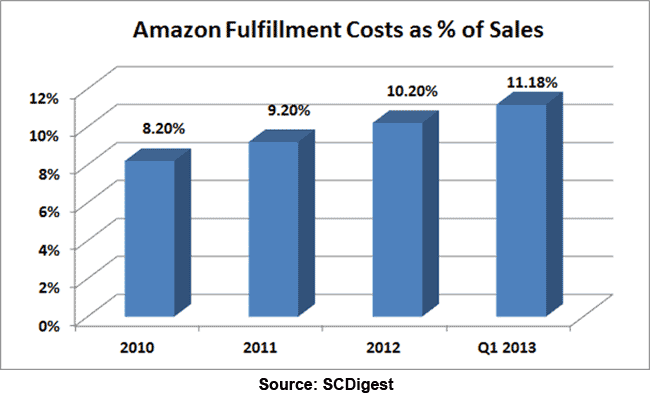 But at break-even, Amazon may be doing better than most e-tailers. An executive at a leading third-party logistics provider said his firm is talking to many retailers whose e-commerce businesses are losing 10% or more. Maybe like Amazon they'll turn a dime someday too.

The choices and decisions around multi-channel a company has to make are many and significant. A friend of mine who runs supply chain for a mid-sized consumer goods company called me a couple of years ago, and said sales was pushing the company to do business with a rapidly growing number of dedicated e-tailers, each of which required EDI linkages that were costly to build. In some cases the partnership didn't work out, and that investment was lost.

What to do, he asked? I suggested looking into some EDI service bureaus to handle the communications until a relationship was cemented.

Different sources offer different numbers, but the US government has been reporting that e-commerce sales have been growing about 15% year over year, quarter after quarter, for some time. That compared to the growth rate of overall retail sales that has generally been in the 3-5% range (both numbers include inflation).
E-commerce sales represented about 7.8% of total applicable US retail sales in 2012, according to SCDigest calculations. We did that by stripping out retail sales of cars, gasoline, restaurants and a couple of other categories that didn't seem relevant for e-commerce comparison.

That 7.8% is up under that method from 2% in 2001 and 6.1% in 2008. Of course, in certain categories like electronics, books and others, the e-commerce percentage would be significantly higher.

The trillion dollar question: Is this kind of double digit e-commerce growth going to continue for the long haul, perhaps newly fueled by developments such as on-line grocery shopping really taking off?

I would have to predict Yes. And that of course will have profound implications for our supply chains.

One of which is that we will simply have too many retail stores. Some have been arguing this for a while anyways, but rapid growth in e-commerce may simply create a brick and mortar glut.

Here is what the Wall Street Journal wrote last year: "Green Street Advisors, an analysis firm that tracks real-estate investment trusts, has forecast that 10% of the roughly 1,000 large malls in the U.S. will fail within the next 10 years and be converted into something with far less retail. That's a conservative estimate; many mall CEOs predict the attrition rate will be higher."

When stores die off in big numbers, distribution networks for retailers and manufacturers need to change accordingly.
I am going to end part 1 here. Part 2 in a couple of weeks. I may need three parts for this actually - attendees at my presentation said it should have been a two-hour slot. This is big and important stuff.

In closing, my math is usually very good, but somehow last week I multiplied 48 First Thoughts columns per year times the 10 years of SDigest and came up with 4800 columns. Thanks for the dozens of you who pointed out my blunder. I am pretty prolific, but overstated my output by a factor of 10. Alas.

Any reaction to this part 1 piece on e-fullfillment? Let us know your thoughts at the Feedback section below.