JC Penney was known to be on a fairly aggressive RFID program, with one executive last Fall surprising a conference audience by saying that retailer had quietly rolled out RFID in three categories at all 1100 of its US stores. Most at the time had though Penney's was only in pilot mode with a much smaller number of stores.

The exec added that he hoped to have 100% item coverage within four years.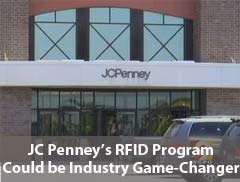 Now, Johnson says it will be all items tagged in the Fall, and the aggressive new store systems by next February or March.
What changed?
It's circumstantial evidence, but it is highly plausible the RFID program acceleration is related to the challenges Johnson is having with his strategy for Penney's.
Johnson was named Penney CEO in June 2011, after his successful stint running Apple's retail stores division.
Not long after his appointment, Johnson announced that Penney was going to end the "big sales" and discount coupons that have characterized the department store market for decades, in favor of a more "everyday low pricing" strategy. Note, of course, that Apple stores don't really discount or ever offer coupons.
To date, the strategy has simply not worked. Same store sales in the second quarter were down a huge 22%, traffic was down 12%, and the company lost $147 million. Many Wall Street and retail observers think Johnson's mission to change how the department store world works at Penney is a fundamentally flawed concept.

That includes legendary former Penney CEO Allen Questrom, who said last week that the "first part of the strategy, which is the elimination of the discounts and the coupons, has clearly been a failure. I've never seen a strategy of some company this size drop that much in the two quarters that he's had. And I guess it's a pretty good indication that it may be something he believes in, but I believe the customer does not believe in it."
So how does this new pricing strategy connect with the RFID and self-checkout technology plans?
Here is what Johnson told Forbes magazine a couple of weeks ago, relative to the fast self-checkout capabilities: "You couldn't do that if you had coupons, and you couldn't do that in a promotional business strategy, because the customer has to figure out that every item had this unique price and was it right for this hour, you know."
So, that line of thinking goes, though the customer has not yet embraced the no coupon, everyday low pricing strategy yet, they will love the new checkout experience, and that RFID-based checkout experience can only be delivered if the customer has an easily known price that doesn't involve coupons.
Whether Johnson is correct or not only time will tell. But what this dramatic acceleration of the RFID and mobile technology roll out does is given Johnson more time to say "This will work," rather than deep six the no promo strategy just a couple of quarters into its execution under heavy criticism.
This is indeed an almost unheard speed in the roll out of new technology. Now we know why.
Interesting how business works, isn't it?
What do you think of JC Penney's new technology and pricing strategy? Does it make sense? Let us know your thoughts at the Feedback section below.