From SCDigest's On-Target E-Magazine

June 26, 2012
Supply Chain News: US Manufacturing Renaissance Being Fueled In Part by Lower Wages
Wages Being Pounded Down by Supply and Demand, Weaker Unionization, Threat of Offshoring; Good For Jobs, But at What Cost?
SCDigest Editorial Staff
There is no question that US manufacturing has been a relative bright spot in an otherwise tepid economy.
The US Purchasing Managers Index (PMI) has been over the 50 level that separates expansion from contraction for a solid 34 consecutive months. The level of factory utilization has risen slowly but steadily from its bottom in June, 2009 at a record low of below 65% to 77.6% in May, just 1.2 percentage points below its long run average of 78.8%.

SCDigest Says:

Weak unions are also a factor in this trend. Unionization rates among all manufacturing employees in the US is down to an amazing just 11%.

What Do You Say?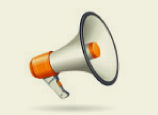 That as a variety of pundits have been predicting a resurgence in US manufacturing due to rising labor costs in China. Last year, for example, Boston Consulting Group predicted that when considering productivity differences, total labor costs in Eastern China would reach parity with the most competitive regions of the US by 2015, saying much manufacturing would return to US soil as a result of this dynamic.
That's the good news. The less positive trend is that the strength in US manufacturing may also in large part be the result of flat or declining US manufacturing wages. That may be serving to keep or even add manufacturing jobs, but drives living standards and purchasing power down, not good for the overall economy.
Even though manufacturing has shown relative strength, the overall economy is still only limping along, meaning demand for labor is still largely weaker than supply, with unemployment rates still over 8%. Second, even though the US has become more competitive, the risk for workers of outsourcing, especially perhaps now to Mexico, remains high and puts a ceiling on wage rates.
For example, wages for auto parts maker American Axle & Manufacturing at its plant in Three Rivers, Mich., are now just $10 an hour for new hires. Those hired before 2008 get a "legacy" rate of about $18 an hour.
The Wall Street Journal recently reported that when the much ballyhooed news that GE was going to move production of electric water heaters to Louisville, Ky., from Mexico, that only came after the unions agreed to a $13-an-hour starting wage for new hires, $8 to $10 or more an hour below the previous contract.
Inflation adjusted manufacturing wages are up just 4% since 2001, although as shown in the chart below, wages have been under pressure for non-manufacturing workers as well. What is interesting – and perhaps depressing - is that wages have been headed down in the past few years even as the "recovery" has been supposedly underway.
The Wall Street Journal notes that for some manufacturers, the key has been encouraging older workers to retire and hiring new ones at lower wages based on renegotiated contracts. While the aggregate differences between wages for older and lower workers is not that stark – about 1-2% - there can be substantial differences at individual factories, as the GE example above shows.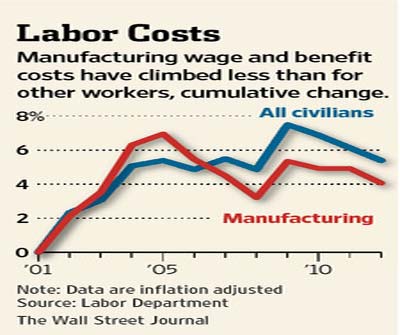 (Manufacturing article continued below)