From SCDigest's On-Target E-Magazine
May 25, 2011
Supply Chain News: Can Smarter Analytics and Optimization Finally Reduce the Out-of-Stock Challenge in the Consumer Goods to Retail Supply Chain?

Past Industry Initiatives only Achieved Portion of Expected Benefits; Why Managing Inventory Levels across the Network is So Hard

SCDigest Editorial Staff
For at least two decades, consumer goods manufacturers and retailers alike have been focused on reducing inventories and out-of-stocks on store shelves through such initiatives as Efficient Consumer Response (ECR), Collaborative Planning, Forecasting & Replenishment (CPFR), RFID and other programs - with somewhat mixed results. While each of the programs delivered some of the expected results, that was usually accompanied by the sense that some of the potential benefits from these initiatives were left on the table.
In fact, inventory levels in consumer goods manufacturers stayed flat throughout most of the 2000s, and out-of-stock levels at the shelf have also been resistant to improvement. A well-publicized 2007 study by Dr. Thomas Gruen of the University of Colorado and Dr. Daniel Corsten of the IE Business School Madrid, based on funding from Procter & Gamble, estimated that manufacturers lose something close to $100 billion in sales annually due to out-of-stocks at the shelf.
SCDigest Says:

Watson also noted that the SKUs that have too little inventory usually result in costly mitigation strategies, such as last minute production schedule changes or expedited transportation.

What Do You Say?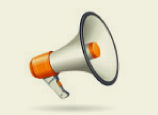 Solving the out-of-stock challenge can therefore pay big financial dividends - especially for the companies that can reach new levels of in-stock performance first, before competitors do.
In fact, according to Remzi Ural, a supply chain lead in IBM's global consumer packaged goods practice, one beverage company IBM recently worked with was able to increase its sales by 12.3 million cases by significantly reducing its out of stocks, in this case throughout its distribution network that served local stores.
Multi-echelon inventory optimization technology , Ural said during a recent Videocast on our Supply Chain Television Channel, is a key tool to reduce out of stocks both in the network and at the store shelf. Inventory optimization has been around for a decade or so, but has only really started to gain critical mass in the past few years. (To see the excellent full broadcast, go here: Videocast: How Smarter Inventory Analytics Solve the "Out-of-Stock" Scenario for CPG Supply Chains.)
What is inventory optimization software? In short, it is a tool that looks at how inventory should best be positioned at different nodes and levels of the supply chain holistically, rather than just optimizing each node/level individually, as is the case in most traditional supply chain planning environments. The result can be significant reductions in inventory with constant or even improved customer service levels.
"When inventory optimization is done right, consumer goods manufacturers can both reduce out of stocks and reduce inventory and working capital requirements," IBM's Dr. Michael Watson added during the Videocast, noting some articles published by SCDigest that explained how the improvement in cash flow that results from lower inventories can actually increase stock market values versus competitors with similar earnings and growth rates.
One place to start with inventory optimization is an analysis that shows not only what SKUs have too much inventory where versus demand, but also what SKUs have too little, as shown in the chart below.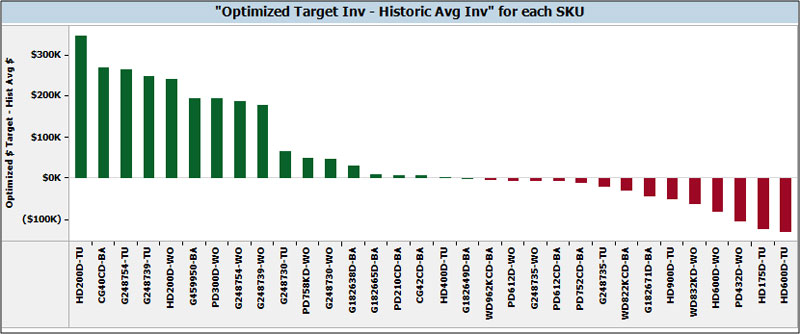 Source: IBM
In the chart, the green bars indicate SKUs where inventory needs to be added, and thus lead to fewer out of stocks. The red bars indicate opportunities to take inventories down without harming service levels. This is accomplished by changing inventory policies and safety stock rules for these SKUs at different levels of the supply chain.
Watson also noted that the SKUs that have too little inventory usually result in costly mitigation strategies, such as last minute production schedule changes or expedited transportation.

(Supply Chain Trends Story Continued Below)