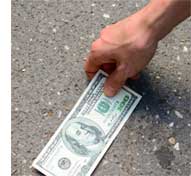 Have you ever reached in a coat or pants pocket and found a $20 bill you didn't know was there? A great feeling right - "found money."
Turns out there are also a number of opportunities for found money in our supply chains too - initiatives that are fast, easy and unexpected sources of savings, like a retailer which quickly saved $20 million annually by simply reassigning what SKUs came in through which ports.
In this outstanding 3-part video series, SCDigest editor Dan Gilmore discusses a number of areas where today's supply chains can find fast money with Toby Brzoznowski, executive vice presdient at LLamasoft.
View Part 1: Finding Money with Product Flow-Path Optimization
Part 2, on Demand Segmentation and Inventory Rightsizing, is on this page.
Not to be missed. View now below.