Close the Gap Between Supply and Demand

Download your copy of S&OP: Non-Negotiable as a Process



---
New Cartoon Caption Contest for Jan. 20, 2014

Every other week, we'll post a cartoon and ask for witty/humorous captions from our readers. The winning entry will be published the following week. The newest cartoon will be posted on the SCDigest home page every other Monday and in that week's newsletter (usually emailed on Thursdays)

Deadline is 8:00 pm ET
Feb. 12, 2014
Winner announced in Nov. 11th SCDigest Newsletter
May the funniest man or woman win!
Have an idea for a cartoon? We would love that too, and will give you the credit.
---
---

Featured Story:
Best Solutions of NRF 2014 Day 1
SCDigest Breaks Out Cool and Interesting New Solutions from the NRF Big Show in New York City into Individual Videos

Related Content:
Best Solutions of NRF 2014 Day 2
SCDigest Breaks Out Cool and Interesting New Solutions from the NRF Big Show in New York City into Individual Videos
Featured Research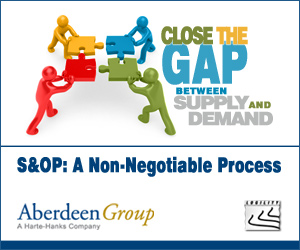 ---
---
---
---