With many on-line retailers struggling to make profits, should more of them be considering pricing optimization tools to bolster the top and bottom lines?
Maybe so, if the success that eTailer Rue La La has had with the technique is any guide.
Pricing optimization isn't exactly a supply chain tactic, but it has been somewhat associated with supply chain management in part because former supply chain planning software leaders i2 Technologies and Manugistics both offered pricing optimization solutions in the early 2000s, the both companies were later acquired by JDA Software.
SCDigest Says:

"We showed that applying machine learning and optimization techniques to these initial pricing decisions...can have a huge financial impact on the company," Simchi-Levi added.

---

Pricing optimization of course uses technology to identify the revenue or profit maximizing price at any point in time, and is used by hotel chains to shoe stores, though it is still far from common today in retail.
Rue La La is a half billion eTailer that is known for its "flash sales," offering a continuous line-up of new products that are available only for a few days or even a few hours.
But as with virtually all retailers today, how prices for these its offerings were set was in general a lot more art than science, and in the end highly dependent on merchandiser judgment, according to Murali Narayanaswamy, VP Pricing & Operations Strategy at Rue La La.
What was the pricing process? There was some attempt to do competitive analyses, Narayanaswamy said during a presentation at a recent INFORMS conference, where the Rue La La project, executed in conjunction with MIT and Dr. David Simchi-Levi, won a first prize award from the operations research society under the Revenue Management and Pricing Section Practice. However, such price comparisons are difficult in fashion goods, where it is often hard to find identical items.
So in the end, "cost plus" is usually the real driver of pricing decisions - prices are simply set to achieve targets margins, as they were at Rue La La and most other retailers.

But of course, target margin dollars are in absolute terms are only achieved if the target "sell through" rate is hit, with sell through being defined as the number of units sold as a percent of those brought in as inventory. If 600 out of 1000 units purchased are sold, the sell through rate is 60%, for example.
Rue La La performed the analysis shown below, representing sell through rates by range across different merchandise lines. While the numbers have been fudged a bit for competitive reasons, they are close enough to actuals to make the point – wide variation in sell through rates.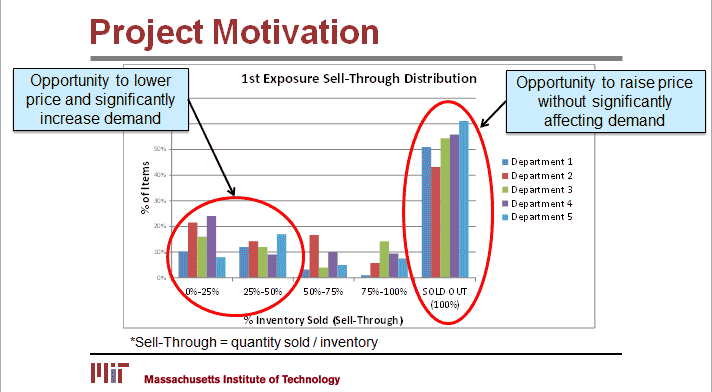 Source: Rue La La/Dr. David Simchi-Levi
As Simchi-Levi notes, when a product sells out completely, a retailer has missed a change to increase revenue and margin by raising prices. On products with low sell through, the opportunity is to reduce price to drive more demand and improve sell through. The ideal sale, Simchi-Levi says, is one that ends with exactly one unit left in inventory.
That opportunity is easy to see after the fact. The question is, how do you know what products will achieve what sell through levels before setting the price and conducting the sale?
At Rue La La, "The MIT team created a regression model based on observable attributes which helped us build a demand prediction model at a style level," Narayanaswamy said. This involved considering data from items that did not stock out to predict lost sales of items that did stock out.
Simchi-Levi says the algorithms also involves looking aggregate hourly sales for a given set of characteristics, such as the event start time, the department running the sale, and more. That approach uses clustering techniques to determine the most important characteristics in estimating lost sales, and ultimately "machine learning" as well to further improve the results over time.
He offered even more detail on the solution to SCDigest:
"Our approach is two-fold and begins with using machine learning techniques to develop a demand prediction model for first exposure items. We then use this demand prediction data as input into a price optimization model to maximize revenue," Simchi-Levi told SCDigest.
(Supply Chain Trends and Issues Article - Continued Below)