Consolidation is a dominant theme in every industry sector across the globe, and the transportation and third party logistics (3PL) industry is at the center of that trend.
In their "predicts" for global logistics for 2016, the analysts at Gartner said they expect that "By 2020, the top 10 global 3PLs will control 80% of the world's logistics volume."
As a result, Gartner further expects a bifuracation in logistics service providers, as the market segments into a relatively smalll number of these huge global 3PL providers whille at the other end of the spectrum, there will be niche players that will often end up working for the global 3PLs.
"There will be limited room for mid-size generalists," Gartner notes.
In support of that proposition comes new data from PriceWarehouseCoppers (PWC) on the pace of mergers and acquisitions in the 3PL and transportation sector in 2015.
PWC finds that in this sector "It was a noteworthy year for total M&A deal value in 2015, as it nearly doubled ($172.7 billion from $87 billion) the previous year's total."
In addition, PWC found the number of megadeals globally - which it defines as having a value of $1 billion or more - grew considerably in 2015 to 28 deals, up from 17 deals the previous year. This increased the average deal value to $771 million, up from $376.7 million in 2014
Those 28 deals, in various states of completion, are shown in the graphic below. If it is too smalll to read, view a larger image here.
Global Mergers and Acquisitions of $1 Billion or More
in the 3PL and Transportation Sectors in 2015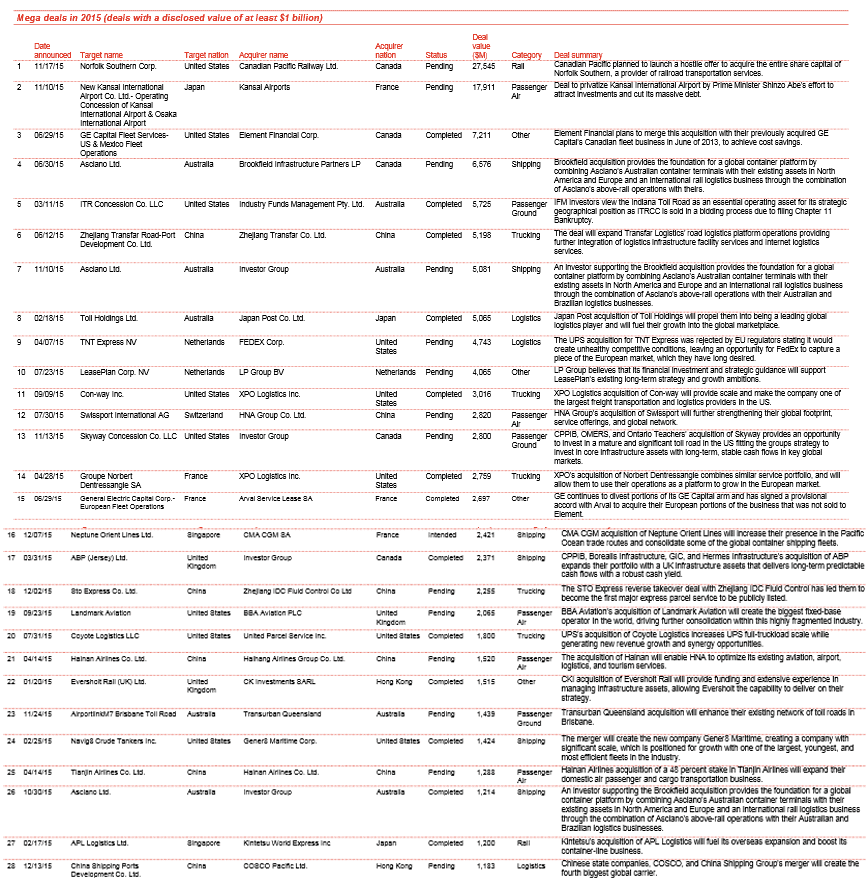 The 3PL industry consolidation continues apace. The result, Gartner says, is that the balance of power will shift from shippers to 3PLs, which SCDigest says will be a major inflection point in supply chain.
Any Feedback on our Supply Chain Graphic of the Week? Let us know your thoughts at the Feedback section below.