So just what does it mean to "digitize" the business, let alone the supply chain?
OK, we're not sure either, but our Supply Chain Graphic of the Week may help shed a little light on the topic, even if the subject of the data comes from the financial sector.
The chart below was recently published on the McKinsey Quarterly web site, and shows the improvements seen by an unnamed European bank as a result of its digitization efforts.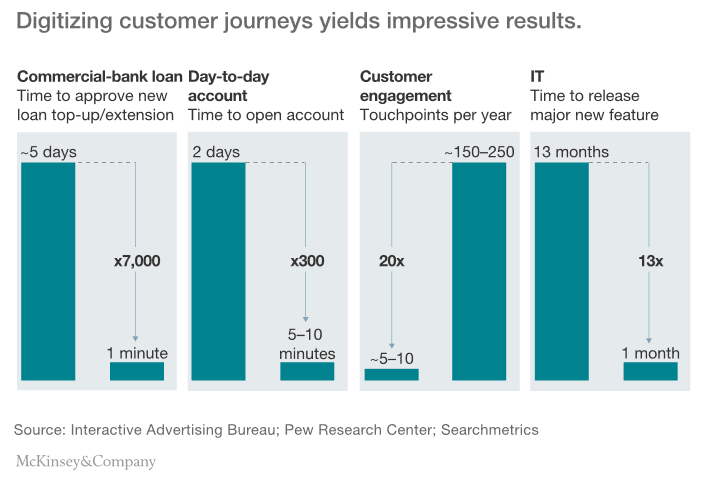 So from this data - which is impressive, we would say digitization is mostly about automating current business processes through IT - surely this is what is driving the loan approval process from five days to one minute. Rather than a human being weighing a variety of factors and approving or disapproving a loan, a smart algorithm does all that work instead. (Good luck appealing to the computer why you really are worth the risk if your loan is denied).
There are certainly many potential supply chain parallels in this.
The big increase in the number of touchpoints per year is interesting. While the number of touchpoints has risen dramatically (we guess this includes things like checking an account balance on-line), are such digital touchpoints really as valuable as the old-fashion kind, as in speaking to a human being on the phone or at a bank branch? There is much added convenience here for sure, but also a sort of distancing in some cases, in our opinion.
And why, you may ask, has IT productivity at the bank risen so rapidly, with an improvement from 13 months to one month to deliver new features? Simply because with new age technologies - mobile apps, the Cloud, web services - development can really be done in a fraction of the time of previous IT tools. A true revolution is really underway her, and it is coming to the supply chain too.
We think all that did in fact shed some light on digitization. Hope you agree,
Any Feedback on our Supply Chain Graphic of the Week? Let us know your thoughts at the Feedback section below.