SCDigest readers may have seen that over the last week of December, the first of the new generation of 18,000+ TEU container ships - CMA CGM's 1300-foot long Benjamin Franklin - arrived at a US port, berthing at the Port of Los Angeles before heading to Oakload. (See US Gets First Stop Ever from New Generation of Megaships, but Ports are Far from Ready for Regular Service.)
These new bohemeths, which started a few years ago with the introduction of the Maersk Triple E vessels, are termed ultra-large container vessels or ULCVs. The Benjamin Franklin, like the Triple Es, can hold just over 18,00 TEU, but some other new megaships have exceeded the 19,000 TEU level.
A bit of web searching on the general topic of megaships led us to the graphic below, on the evoluion of ocean container ships, from a recent report from the International Transport Forum. It's an interesting view.
The Evolution of Ocean Container Ships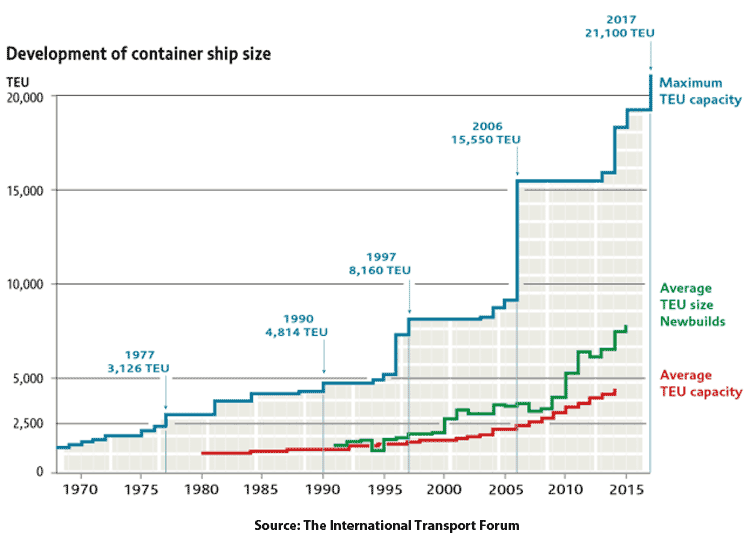 The megaship era started in the mid-2000s, with the introduction of 12,000 to 13,000 TEU vessels. After this latest jump to 18,000+, the report as can be seen is projecting ships with capacity in excess of 21,000 TEU will be coming on-line by 2017, we assume with some of those ships already on order.
Driving this trend of course is the promise of lower costs per container movement for the struggling shipping industry, beset by slow growth and much over capacity. But of course those cost economics only work if the carriers can sail at nearly full utilization, still an open question.
Nevertheless, the average size container ship even for new builds remains far below the max, about 8000 TEU currently (not long ago considered a very large ship). The new Panama Canal expansion will only be able to handle ships of about 13,000 TEU, so that should help to keep the average below the current maximum levels.
Maesk Lines and others have said 20,000 TEU or so may be about the maximum that makes sense, given the reality of cargo volumes and the ability of ports to support anything much larger, and the challenges of unloading such giants.
Still, we're heard of designs for approaching 25,000 TEU - and we suspect before long we may just see such a vessel.
Any Feedback on our Supply Chain Graphic of the Week? Let us know your thoughts at the Feedback section below.