Is it time to rethink what we believe we know about US eCommerce growth?
That's what we are pondering here at SCDigest, after seeing the chart below this week in an article from Bloomberg Business, derived from numbers compiled by our friends at Wolfe Research.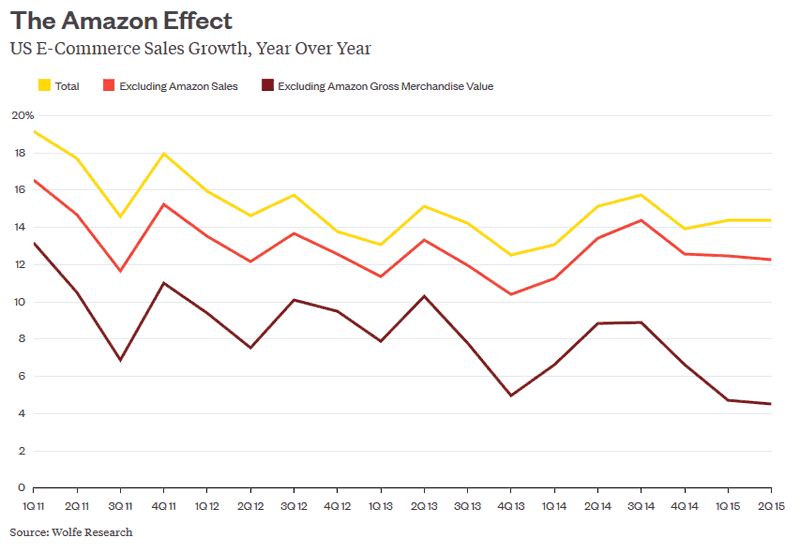 Wow. While overall US eCommerce sales continue to grow at a 14-16%, according to Dept. of Commerce data, if you subtract the total value of Amazon's on-line sales, that growth rate drops to just 5% or so in Q1 and Q2, and has been well below the total growth number well before these last two data points. (The Amazon merchandise sales number includes both its own direct sales as well as sales through its third party Marketplace service.
Now, many other US retailers are seeing strong on-line sales growth, but as Bloomberg reported in the same article, that growth is really slowing for many.
GAP and JC Penney have seen almost no year-over-year growth in ecommerce sales in the first two quarters of the year, for example. Walmart (about 18% growth) and Norstrom (about 11%) are doing better, but those numbers are down from more like 30-40% growth year over year in 2013.
Is that slowdown primarily just due to the "law of large numbers?" Or is that Amazon continues to take share from almost everyone?
A drop from 30-40% growth is almost inevitable, that's for sure, but According to the chart above, the "Amazon effect" may in fact be the most prominent factor.
Any Feedback on our Supply Chain Graphic of the Week? Let us know your thoughts at the Feedback section below.