We recently completed a two-part review and summary of the 20th annual Third Party Logistics Study, led as from its inception by Dr. John Langley of Penn State University. You can find both those summaries here: Highlights from the 20th Annual Third-Party Logistics Study Part 2.
Not included in either of those SCDigest articles is the graphic below, which quanties what challenges shippers views as the most important in 2015.
Top Shipper Challenges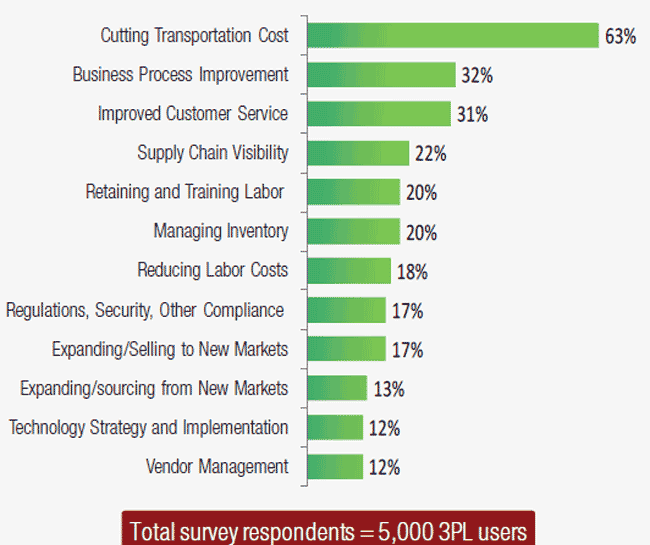 Source: 2015 3PL Study
Is it surprising that the top cited challenge was cutting transportation cost? That last couple of years have seem sharp rises in transportation rates, as demand growth has far exceeded capacity, so perhaps not.
Cutting transportation costs in fact scored almost double the rank of the number 2 challenge, improving business processes, which in turn was just above number 3 improving customer service.
We were a little surprised "reducing labor costs" ranked just number 7 on the list, cited by just 18% of respondents. Have we leaned out labor about as far as we can in logistics such that it is a minor concern?
What would be on your list? Please let us know.
Any Feedback on our Supply Chain Graphic of the Week? Let us know your thoughts at the Feedback section below.