We all know the US has logistics infrastucture challenges, though there is much debate on just how bad those really are.
But there must be some real issues, as increasingly general business groups are weighing in on the issue, not just logistics-related organizations.
A recent example of that is a new report on the issue from the Business Roundtable, a collection of CEOs from many of the US's leading corporations.
The Roundtable sees the issue as increasingly critical for US global competiveness.
"Highly performing, modern infrastructure systems lower the cost of doing business by reducing fuel expenditures, unproductive labor costs (e.g., wages paid to a driver to idle in traffic for several hours instead of making more deliveries), the time needed to transport inputs and final products from one place to another, and the costly effects of uncertainty," the report states.
The report includes a number of interesting graphics, two of which we publish here. First, a look at total federal, state and local spending on infrastructure by different modes, if you will, as a share of US GDP.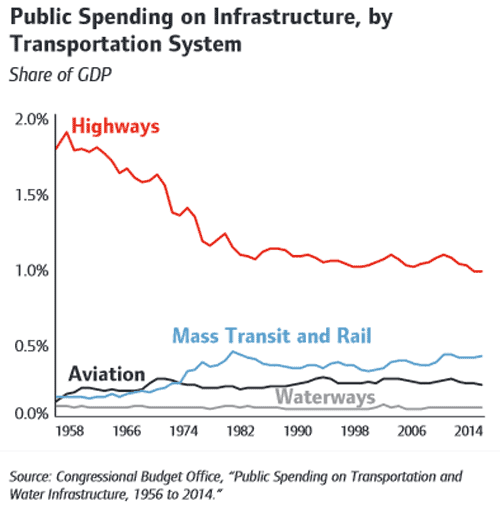 Source: The Business Roundtable
As can be seen, such spending on rail, aviation and waterways (including ports) has stayed roughly the same in terms of the percent of GDP, while such spending on highways fell from nearly 2% in the late 1950s to not much above 1% of GDP currently.
Of course, the 1950s/60s period is when the federal highway system was built, and the percent of GDP spent in other areas, such as social spending, has risen dramatically since then, clearly draining money from infrastructure funding.
The second chart we publish is very interesting, showing how much of the money that is spent goes towards new construction (capital spend) versus just keeping what we've got (operations and maintenance).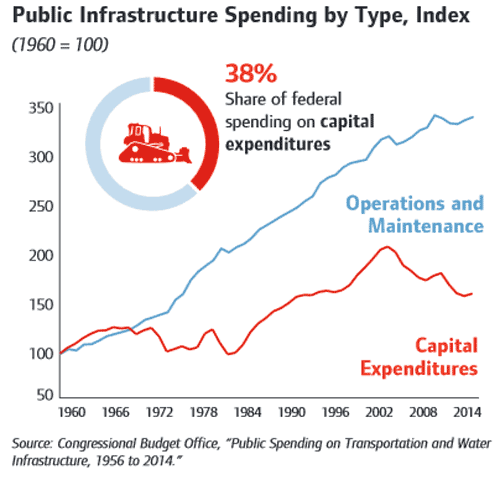 Source: The Business Roundtable
As can be seen, the dollars and share going simply to operations and maintenance continues to rise, while of late capital spending is actually declining, and obviously losing share.
What to do? Well, that is the trillion question. Understanding the facts is a good place for all of us to start.
The full report can be found here: The Case for Investing in America's Transportation Infrastructure
Any Feedback on our Supply Chain Graphic of the Week? Let us know your thoughts at the Feedback section below.