Tata Consultancy Services (TSC) has just release a rather massive new report on the Internet of Things, based in part on a global survey of the IoT practices and opportunities within companies.
SCDigest waded through all 180+ pages of the document, and summarized key highlights earlier this week. You can find it here: Large Companies Plan Big Spending on the Internet of Things, but Definitional Issues Raise Some Questions about What is In and Out of IoT Realm.
Near the end of the report, we found the following graphic, which summarizes what TSC says are the "Four Customer Truths" that can be gained from IoT deployments:
The Four "Truths" the IoT Brings Companies about their Customers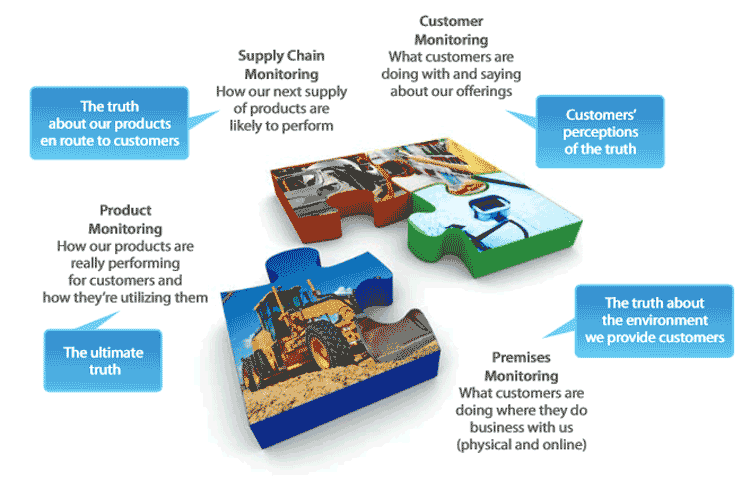 Source: Tata Consultancy Services

The most interesting of these four truths is perhaps "Product Monitoring - How our products are
really performing for customers and how they're utilizing them."
Why? Because, as TSC notes, "Before the onset of affordable digital sensors, digital cameras, and low-cost communication networks this decade, it was impossible for companies to feasibly track how customers were actually using their products and services, and the performance of those offerings. Companies had to rely on partial visibility - for example, through complaints to the call center or sales force."
Indeed, Tata later says that one of the key seven attributes that distinguish companies that have seen strong results from IoT initiatives is that they "are better at dealing with internal resistance to hearing the truth that IoT technologies reveal about product and service performance."
That, we believe, is a very interesting point.
Any Feedback on our Supply Chain Graphic of the Week? Let us know your thoughts at the Feedback section below.