Although around since the late 1990s, the last several years have seen a significant rise in interest in Distributed Order Management, or DOM, solutions.
Why? As the orchestrator of omnichannel commerce, of course, both in retail and beyond. DOM is also increasingly popular as a solution to unify disparate traditional order management or ERP systems that often are seen in companies as a result of years of mergers and acquisitions. Sometimes individual plants still have their own order systems. DOM can serve as an "order hub" to centralize order processing across an enterprise.
All this and a lot more is explained in a new white paper from SCDigest: Conquering the Omnichannel Challenge - Today and for the Long Term for Retailers and Non-Retailers. Click on the link to download.
From that report comes the following simple graphic illustrating DOM functionality: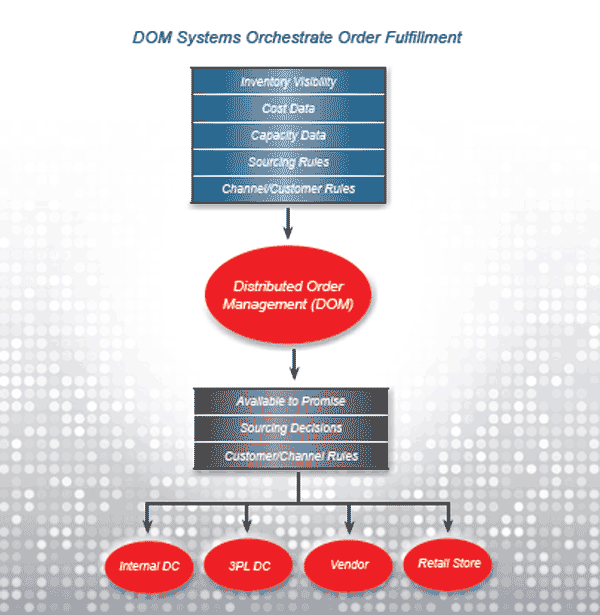 Source: SCDigest
Greatly simplifying, DOM is order fulfillment centric, looking at how to source an order in a way that meets customer service commitments at the lowest total cost or some other objective. Generally at the heart of a DOM is a powerful, configurable rules engine that enables companies to define sourcing and fulfillment policies and logic.
A DOM can be said to orchestrate order fulfillment, maintaining visibility to inventory, costs and capacities
across the extended supply chain (including those of suppliers), as well as specific inventory or handling
requirements defined by channels or customers.
There is a lot more in the full free omnichannel report.
Any Feedback on our Supply Chain Graphic of the Week? Let us know your thoughts at the Feedback section below.