Every day it seems brings more news relative to advances in robotics, including a just concluded "Picking Challenge" contest from Amazon, in which teams from around the world competed to build robots that could select or "pick" a variety of items - from a rubber ducky to pencils - from a shelf area and place them into a tote on nearby table. (See Amazon Comes Up with New Way to Innovate - Let the Grad Students Figure It Out for Almost Free.)
Also this week, a new Wall Street Journal article on how advances in technology are enabling a new generation of robots to take on ever more complex tasks - with visions that these next generation machines could even sew garments just like a human before long.
The impact of this would be profound, not only on jobs around the globe but in changes to supply chain thinking, in which it becomes a lot less attractive to chase low labor wages across the globe and jus use a lot more robots back hom instread.
With that article, the Journal included the chart below, which nicely summarizes the industrial robot population across several dimensions: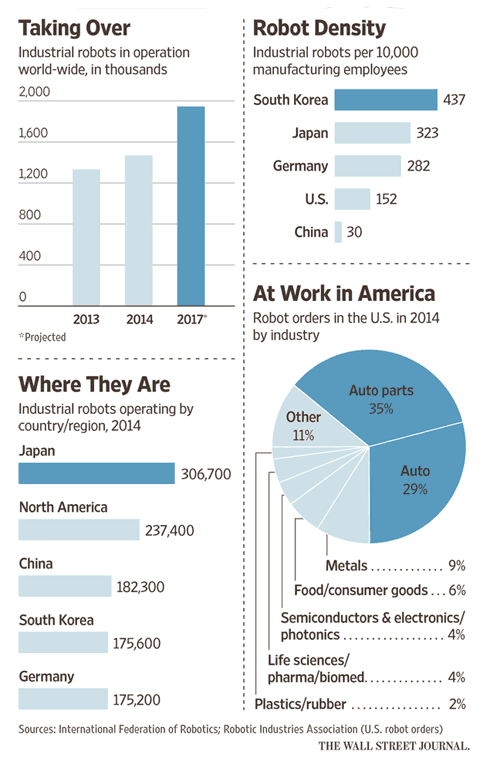 SCDigest was especially interested in the data relative to robot density, or number of robots deployed per each 10,000 manufacturing workers, where South Korea and Japan lead the way, with Japan havng twice the robot density of the US and Korea nearly three times the US level.
And interestingly, the unemployment rates in both South Korea and Japan are low, with Korea at about 3.7% and about 3.5% in Japan, well below current US levels.
Any Feedback on our Supply Chain Graphic of the Week? Let us know your thoughts at the Feedback section below.