Risk management in the supply chain continues to be a very hit topic. Most companies still use a framework to address risk that assesses potential threats in terms of their likelihood of occurence on one dimension and the size of the impact from such an event on the other. Attention is then obviously focused on those risks that are likely and that will have significant consequences.
This approach has several challenges. First, the financial impact of an event tends to be imprecisely defined, rather than quantified - so it's hard to guage the appropriate level of investment or cost to mitigate the risk.

Second, this approach doesn't really address what Dr. David Simchi-Levi calls the "unknown unknowns" - events such as natural disasters, factory explosions and other random incidents. Individually these events may be very unlikely - and thus would not put them on the radar using the traditional approach - but collectively the chance that one of these types of events will impact a company's supply chain is high.
Simchi-Levi has addreessed all this and more with what he calls the Risk Exposure Index (REI), an innovative approach first unveiled on a Videocast on our Supply Chain Television Channel in 2012, and now being used by a number of major companies across the globe.
That includes Ford, which together with Simchi-Levi recently won the prestigious Wagner Award from INFORMS, the leading professional association for operations research and analytics, for its use of the REI, beating out finalist entries from companies such as Intel and Procter & Gamble.
You can learn more about this continually evolving Risk Exposure Index approach here: Supply Chain Risky Business 2015.
As part of another Videocast earlier this year, Simchi-Levi used the following graphic, in which he plotted the impact of a major disruption at a given Ford supplier by the amount that Ford spends with that supplier each year.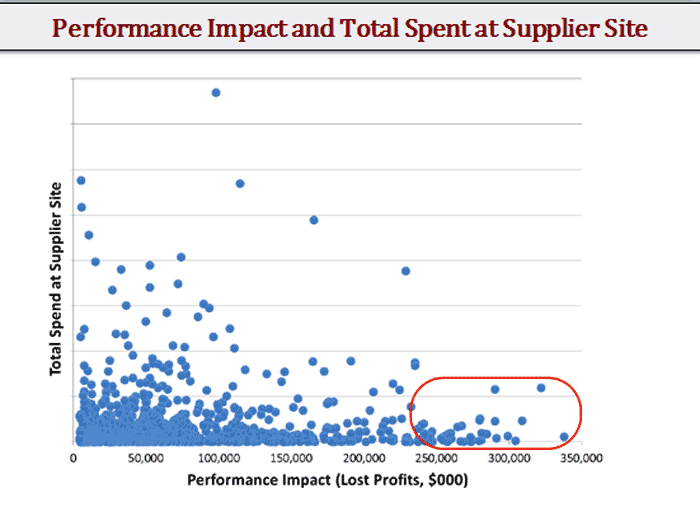 An interesting insight emerges from the data. There are a good number of suppliers with which Ford spends relatively little money but which would cause a major hit to revenue and profit if there was a disruption at one of those sites. Often, these suppliers are producing small parts that seem insignificant but which are essential to complete a vehicle and for which there may be no back-up source.
These important risks are often hidden because the supply management organization tends to focus on big, major components and/or suppliers with which they spend a lot of money. But this supplier segmentation exercise conducted as part of Ford's use of the REI was a wake up call that showed size of spend was not the only important factor in terms of supply chain risk, and steps were taken to reduce the vulnerabilities from this group of suppliers.
Simchi-Levi says this same pattern holds true in virtual all major companies - so it may be tme to take a new look at your risks from supplier disruptions.
Any Feedback on our Supply Chain Graphic of the Week? Let us know your thoughts at the Feedback section below.