There is still a lot of hope for and anecdotal evidence of so-called "reshoring" of US manufacturing.
SCDigest hopes it becomes real - but the data continue to paint a different picture.
A recent article in the UK's The Economist magazine painted a far less rosy picture, saying China specifically and Southeast Asia more generally are likely to continue to dominate global manufacturing.
That article noted that while rising wages have indeed hit China manufacturing a bit, the impact is less than many believe, for a variety of reasons, including super-efficient Chinese producers, growing adoption of automation by many Chinese companies, and China's rapidly rising share of global demand.
A companion article included the graphic below, which shows shares of global manufacturing output by various countries/regions over the past 25 years. It is quite sobering.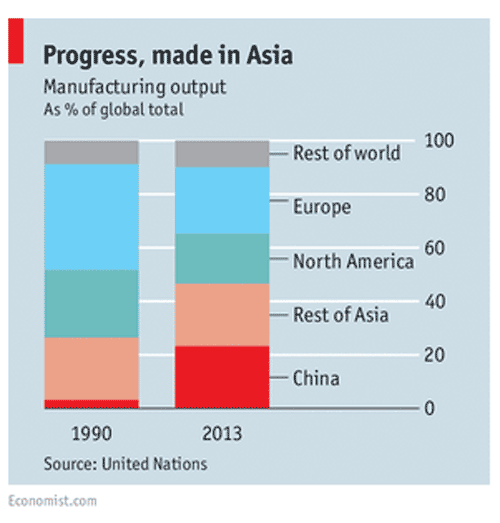 As can be seen, China's share of global output has seen an almost unbelievable rise, from just about 3% in 1990 to just under 25% in 2013, the last year for which data is available. And China's share may still be rising, The Economist says. For example, China's share of global clothing exports has actually risen of late, from 42.6% in 2011 to 43.1% in 2013, despite the supposedly rising wage factor.
The article also says that in many cases where China is losing production, it is moving to other parts of Asia, such as Vietnam or Cambodia, rather than say to developed countries.
For more detail, see Think China is Losing its Manufacturing Clout? Think Again
Any Feedback on our Supply Chain Graphic of the Week? Let us know your thoughts at the Feedback section below.