Everyone knows eComnerce is growing rapidly - but just how rapidly? Has a reached a significant share of the total US retail market?
Well, it depends on whom you ask. We've seen a variety of numbers from the US government, analyst firms such as Forrester, retail analytics firms and more - with those numbers frequently not agreeing with each other.
The US Commerce Dept. says eCommerce sales have risen to about 6% or so of total US retail sales by the end of 2014 - up from just 2.4% in 2005, a pretty healthy growth rate.
But is that the right way to look at things? The denominator in the government's numbers is all US retail sales, which includes a number of categories that really aren't appropriate when analyzing the eCommerce share - sales at gas stations, for example.
So as we have done in the past, we have augmented the government number by looking at eCommerce sales relative to more relevant total retail sales number. We do that by subtracting out automobile sales (a big part of total retail sales), gas stations, fuel distributors and restaurants.
When we computed eCommerce sales relative to those numbers, and get the following: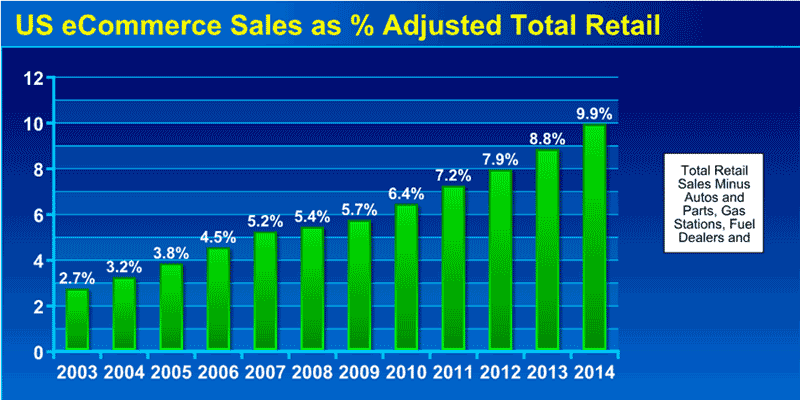 Source: Supply Chain Digest
Using this method, we find eCommerce sales represent a much larger 9.9% of total relevant US retail sales, some 50% higher in percentage terms than the government's calculation.
Of course, the percentage in certain categories, such is electronics, is much higher than 9.9%. But assuming that share continues to grow, which seems certain, it will inevitably have an impact of traditional brick and mortar stores, of which they and we may just find there are far too many.
Any Feedback on our Supply Chain Graphic of the Week? Let us know your thoughts at the Feedback section below.