We all know the news about what may or may not be a shift to bring manufacturing back to the US from China and other countries in Asia, commonly referred to as "reshoring."
As we have reported many times, despite a number of anecdotal reshoring examples, it's really hard to find the trend in the numbers. For example, the US trade deficit with China will again be a record in 2014, when the December numbers come in, at well over $300 billion.
A recent article in the Wall Street Journal on reshoring can be summarized as saying that there are a variety of factors (rising labor costs in China, need for more market responsiveness, low energy costs in the US, and more) that are in fact driving a growing number of companies to look at manufacturing domestically - but the move faces a number of barriers as well.
These barriers include lack of a supply base in many product categories, a relative lack of contract manufacturers in the US, a lack of flexibility on the part of some US contractors compared to Chinese one and more.
So, the reality is that for now at least the reshoring wave is more like a trickle, though certainly with a little bit of momentum behind it.
But in a sign of how US manufacturing has fallen, the Wal Street Journal published the chart below, which shows changes in the global share of exports of manufactured goods from 2000 to 2013 by China, the US, the European Unon and Japan.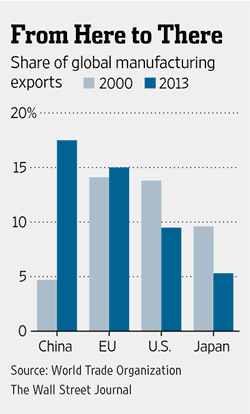 As can be seen, over that period the US' share of those exports has fallen from around 13% to more like 9% at the end of 2013. Japan's share has also fallen sharply, from almost 10% in 2000 to just 5% in 2013.
China's share of exports has of course exploded, from under 5% at the turn of the century to about 17.5% two years ago. But perhaps surpisingly, the EU's share has actually grown a bit, roughly from 14% to 15% over that time. Germany's export machine has largely continued on, and we expect some of that growth is also coming from EU countries in Eastern Europe.
Will that trend in the US share of global exports turnaround? If you are a US manufacturing proponent, we think the first goal is really just about stabilizing current levels first, and then looking for growth again.
But as the Wall Street Journal article makes clear, China is a tough competitor.
Any Feedback on our Supply Chain Graphic of the Week? Let us know your thoughts at the Feedback section below.