Over the past two weeks, we published as usual first the list of the top consumer packaged goods supply chains, as rated by related retailers in the annual Kantar Retail PowerRankings survey. (See Top Consumer Packaged Goods Supply Chains for 2014.)
That was followed by a similar list for retailers that sell primarily consumer packaged goods, as rated by the manufacturers, in Kantar's unique methodology. (See Top Retail Supply Chains for 2015).
But supply chain management is actually just a small part of the overall report, which ranks manufacturers and retailers on a wide range of business attributes, from overall strategy to brand power to category management and a lot more.
That always includes a projection by manufacturers as to which companies will be the "power retailers" in the next 15 years, as shown in the chart below: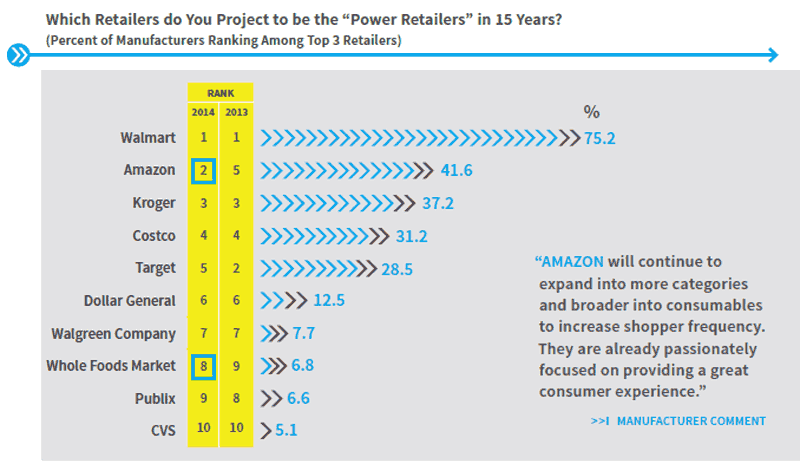 No real surprises in a sense, though it is interesting to note Amazon.com jumped to the number 2 spot from number 5 last year, though still far behind Walmart in terms of the number of manufacturers putting each company in its top three for future power retail positions.
Amazon wasn't even on the list just a few years ago. Will Amazon ever jump into the number 1 spot? That will be interesting to see. Costco continues to score well, as Whole Foods keeps moving up from nit on the list not long ago.
Any Feedback on our Supply Chain Graphic of the Week? Let us know your thoughts at the Feedback section below.