Do companies that are highly committed to sustainability (environmental, workplace, social, etc.) perform better fnancially than do those less inclined? Or do they actually perform worse, due to costs associated with sustainability that do not bring much return? Or maybe it doesn't really matter?
The answers to those questions would be good to know, right?
A new piece from George Serafeim, an associate professor of business administration at the Harvard Business, as recently published on think tanks The Brookings Institute web site, certainly sheds a lot of light on the topic.
To greatly summarize, Serafeim and some colleagues recently identified 90 pairs of similar companies, one of which could be considered as exhibiting "high sustainability," and the other "low sustainabilty, going all the way back to 1990.
They then tracked combined stock price gains from 1990 through 2010, as well as other financial metrics, as shown in the graphic below, where the red line reacks the high sustainability group and the blue line the low sustainability companies' market performance:
High Sustainability Companies Far Outperform Others in Stock Performance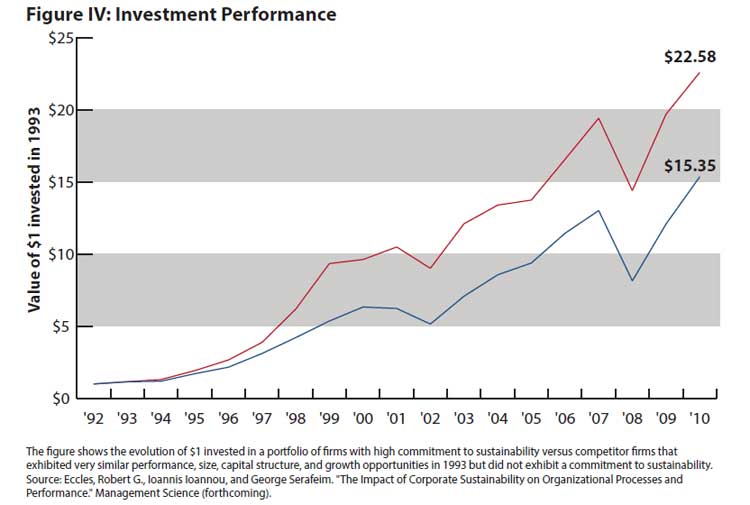 On a risk-adjusted basis the outperformance was 4.8% annually.

The research found similar results for the measures of return-on-assets and return-on-equity. Moreover, this outperformance was more pronounced for companies that sell products to the end consumer (i.e., business-to-customer [B2C] companies), compete on the basis of brand and reputation, and make substantial use of natural resources.
We'll note there could perhaps be some other explanations for the increased valuation over time for high sustainability companies. For example, perhaps high profit firms have more latitude to pursue sustainability agendas, making high sustainability a result not a cause of outsized stock valuations.

Still, this is very excellent research that has been supported by other such studies as well, as Serafeim observes in his article.
Full story here: Research Shows Companies with High Levels of Sustainability Gain Major Stock Price Advantage
Any Feedback on our Supply Chain Graphic of the Week? Let us know your thoughts at the Feedback section below.